Design & Code is a non-profit organization founded to bridge the gap between design and programming through interdisciplinary education.
In the last year, Design & Code has grown considerably, with dozens of students weekly at Parsons, and a second branch recently launched at SVA. We have organized events with other schools and are planning a large scale design-focused hackathon with over 400 attendees. We have introduced many designers to code, and are now expanding to Computer Science programs to teach software developers how to design.
The technology industry has recently begun to appreciate the relevance of design, and the design industry has begun to understand the value of learning how to code. Companies in both industries are by-and-large desperate for fresh talent educated in both fields.
Design & Code is empowering students by providing them with new professional skills that will make them more autonomous, and in turn enhancing tech culture as a whole by providing new professionals with mixed skill sets and perspectives. In the future, this will facilitate interdisciplinary collaboration that will not only lead to a higher caliber of user-facing products, but to new perspectives on the creation of technology itself.
We intend for Design & Code to become one of the key organizations in the intersection of design and technology, helping to shape the next generation of designers and developers.
Since its founding in early 2013, Design & Code has existed in many forms, including the Parsons Code Club (PCC) and the Creative Code Club (C3). Following is a story of how the organization came to be what it is. It may seem long but it contains less than 10% of the actual correspendence sent between us. I tried to keep it as accurate and relevant as possible. Enjoy.
Starting Out
In late 2012, Dan sent a message out to a group of students (and Rory, one of our beloved teachers) at Parsons.
Everyone in the thread was really excited about the idea, and most ended up becoming members of the club.
By 12/12 we had already decided to build a website for this new club. I bought par.so a few days later so we could put the site up on par.so/ns. As of writing this, that url is just follow-bait and the site still isn't online — a case study on faulty time management and prioritization.
The few of us who took it upon ourselves the initiative of getting the club up and running became the founders. In order to become an official New School student organization, we were required to fill arbitrary roles, and so we did.
Parsons Code Club Officers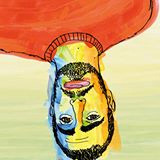 Joel Califa
President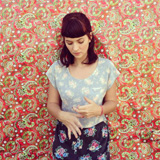 Mallory Brennan
Vice President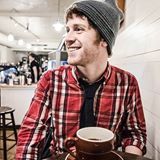 Daniel Udell
Communications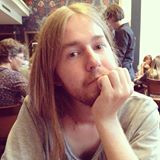 Burak Nehbit
Treasurer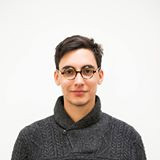 Freddie Andrade
Records
It would take us a few months to get around to completing this process. In the meanwhile, we had other priorities.
The First Semester
2/8/2013
P++ First Meetup!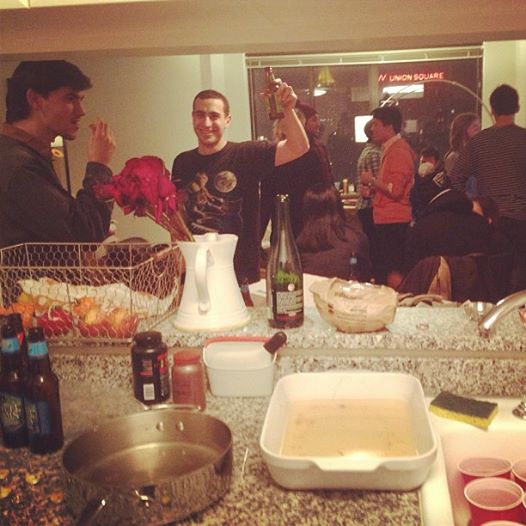 By the time we first met, our club as called P++, or Parsons Plus Plus. It wasn't long before we returned to "Parsons Code Club," and this would not be the last time we changed our organization's name. After the meeting, Dan sent a message with a recap.
2/16/2013
Bring Your Own Logo Party.
Since we were all designers, we decided to crowdsource our initial brand.
Our ambition for Design & Code would grow, and the naming and branding of the organization would adapt — but our much loved first brand for the Parsons Code Club, designed by Robert Vinluan, would stay with us for a long time.
Sidenote: it also happened to be during the one week within which the Harlem Shake was ridiculous in a good way.
3/4/2013
First contact with another student org — Zack Newman of Columbia's ADICU.
On 3/9 we began writing our first constitution as a club, dubbed the codestitution, because really we're all a bunch of nerds. We also tried to figure out a possible curriculum for the club.
The site would never materialize, but we started putting every week's subject to a vote on our rapidly growing Facebook group, which proved an invaluable resource in determining what to teach. We scrapped our initial 13-week-long curriculum and decided never to teach something if we'd need people to show up for more than a single session. While this policy is limiting, we've found it to be pragmatic and still abide by it.
3/12/2013
Mallory and I finally submit the student org form to the school.
A month goes by, during which we have another meeting with our members. Not much happened during our first semester as a club. Putting our first event together took precedent over everything else. It was our first time corresponding with a third party (GitHub), the school and our membership about potential dates that worked for everyone. We manage to formalize our club right before our first official event.
4/10/2013
PCC becomes and official New School student organization.
It came time for our first event. The room we had bookde wasn't amazing, so the day of the event we found a different room and moved everyone there with the hope that there would be no classes. From the next semester on having a great room every week would be a priority.
4/20/2013
PCC's first official event: GitHub teaches Git.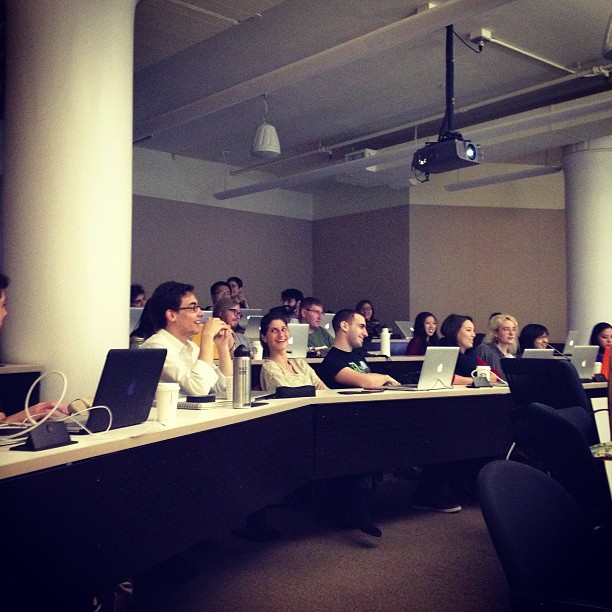 Our first event was a huge success, with 40 attendees. As discussed in our first meeting, we started out with a Terminal workshop led by Burak, followed by a Git workshop led by Scott Roberts of GitHub.
5/7/2013
Freddie and Burak are succeeded by Robert and Jayne.
Two of our officers graduated along with the class of 2013. This was the first time our team changed. In their place, we recruited Robert Vinluan and Jayne Lee as our new officers.
Parsons Code Club Officers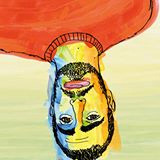 Joel Califa
President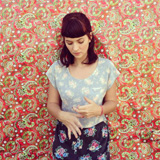 Mallory Brennan
Vice President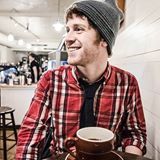 Daniel Udell
Communications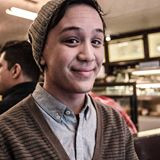 Robert Vinluan
Treasurer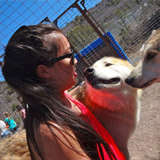 Jayne Lee
Records
Around this time we also realize that many people think the club is for people who are already great at coding, something we would deal with over the summer and the next semester.
Attempting to Build The Website
Around a month into summer, we opened our new Facebook chat, dubbed Code Club Commanders because, again, we are nerds and dig alliteration. The chat included the 5 current officers plus the two alumni. Burak and Freddie remained very active until they started working full-time the following semester.
6/4/2013
I talk with Emanuel Hahn, president of Tech@NYU, a student organization within NYU that would collaborate with us many times in the future.
No website yet (this is kind of a running joke by now) but the chat has so far amassed over 5000 messages and is key in keeping our team relatively organized and updated. The next day Burak and I have a 200 message long conversation about Turkish and Israeli politics and answer complaints by limiting the chat to (mostly) Code Club business.
We put together a list of website requirements and set the deadline for wireframes to July 2nd 2013. The wireframes come in around July 10th, at which point we critique.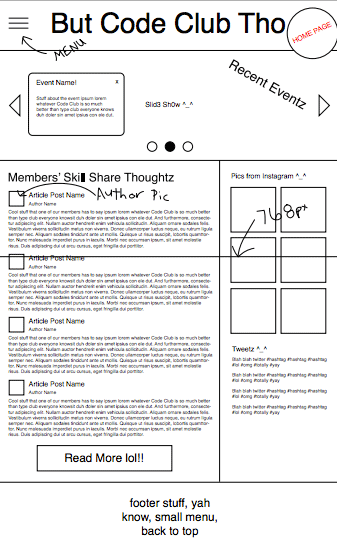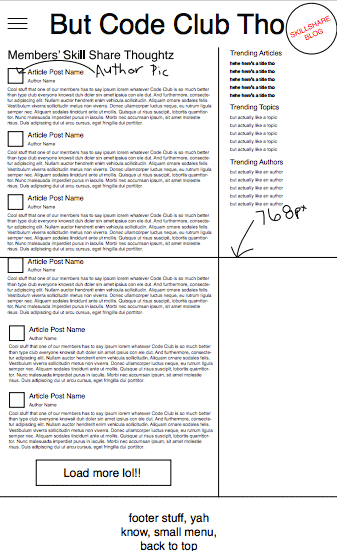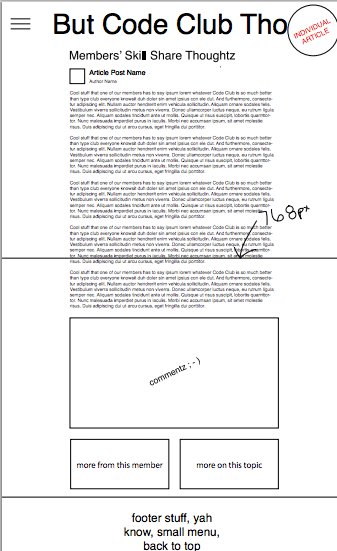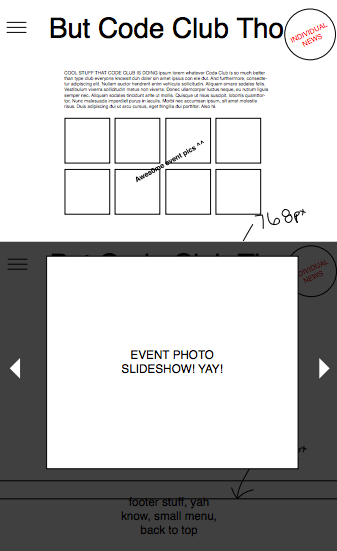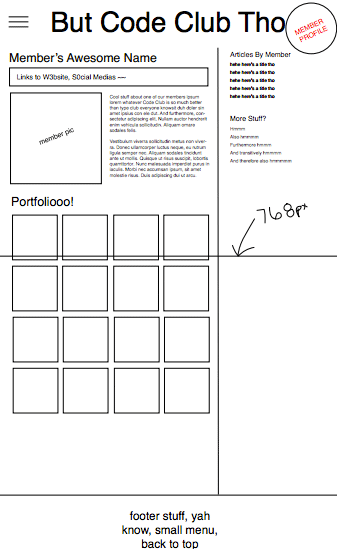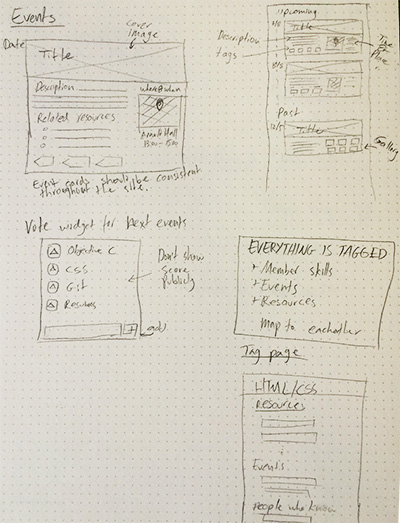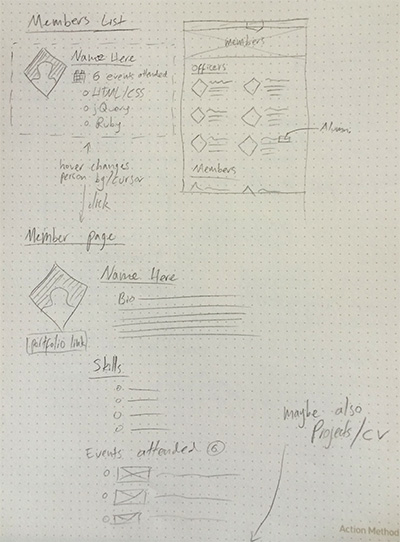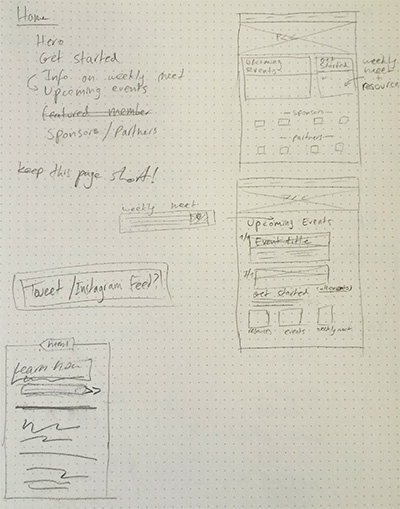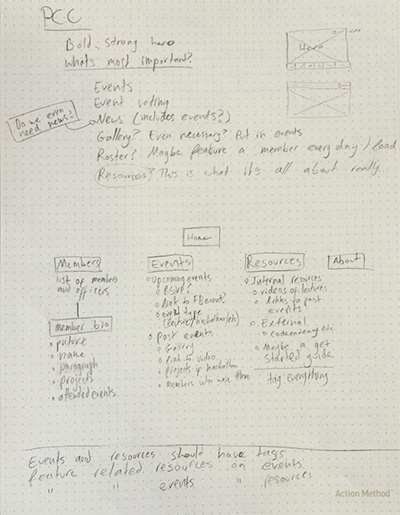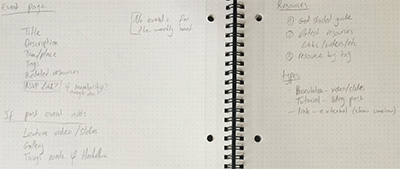 Long conversations ensue filled with long-winded designer opinions about the pros and cons of hamburger buttons and everything else about the wireframes. Say what you will about designers, but we really care about design. These may just be longer than this entire page, but if you are especially curious, ask and you shall receive.
7/26/2013
We meet at the Amicus offices to finalize the site's structure.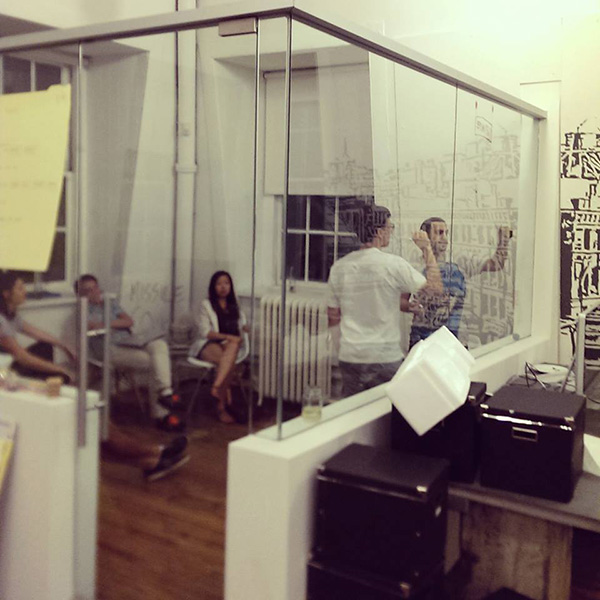 At this point, Rob and I get to actually designing the site. For the first time, it seemed as though it would actually happen. Spoiler: it didn't.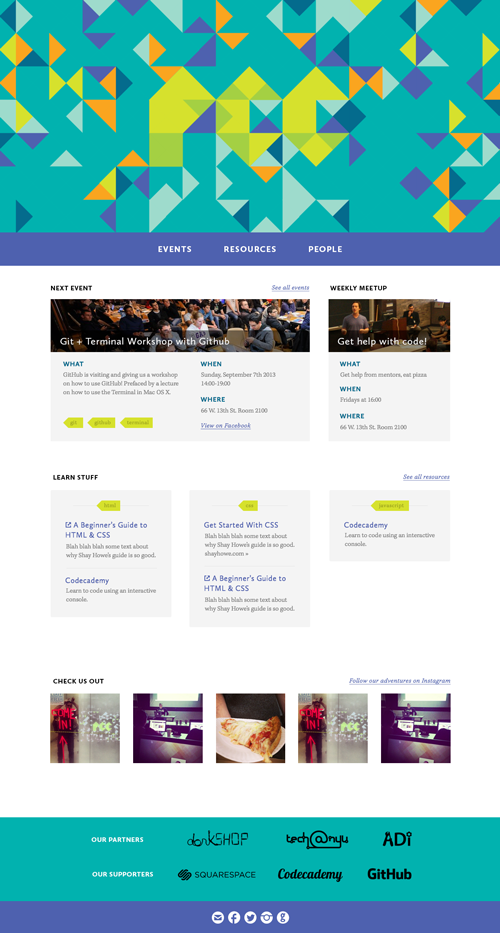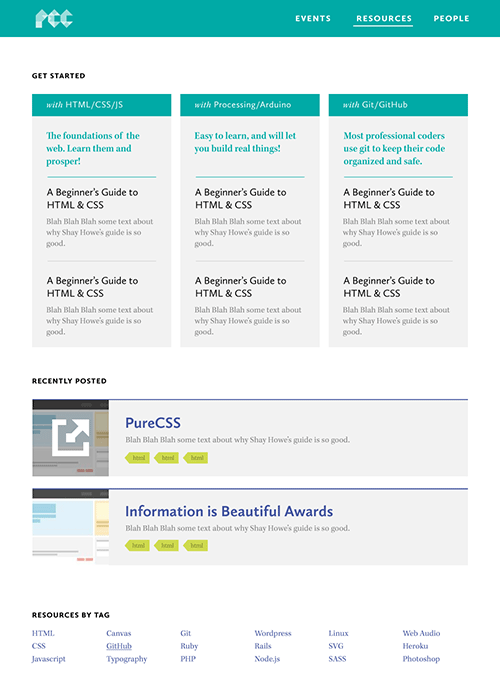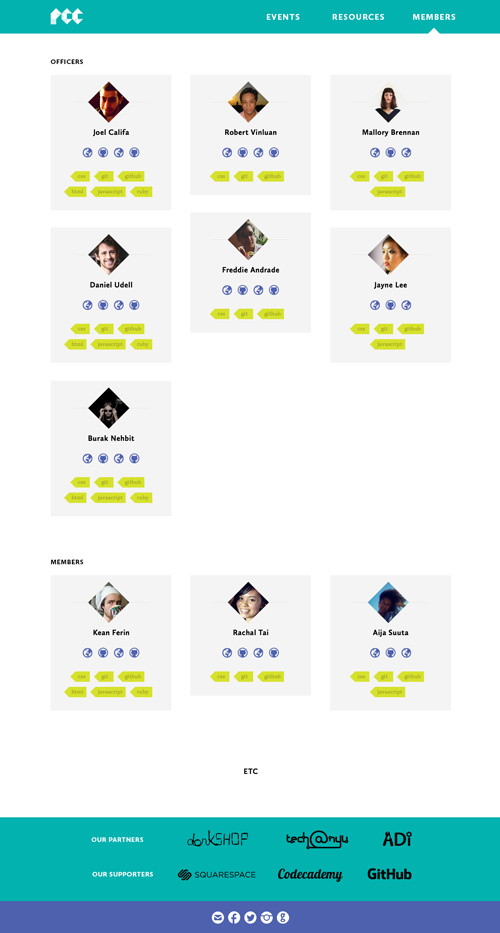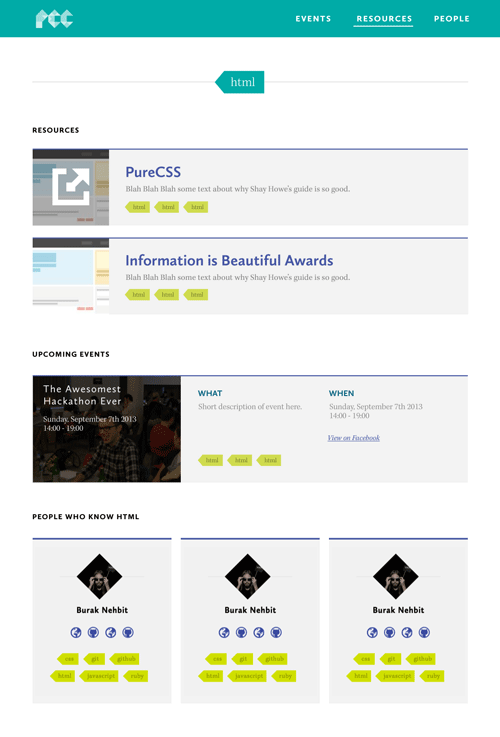 The idea was that Rob and I would design and code the front-end, while Freddie and Dan took care of the back-end, probably via Wordpress. None of us ended up finishing our respective tasks and the site stagnated again.
8/6/2013
We meet with Juliette Cezzar, the Department Director, to discuss the future of PCC.
With a new semester ahead, we are ready to get organized. Mallory brings up a good point about the difficulties of being organized while running the club via Facebook chat
We still experience similar problems but have yet to find a better system. Jayne suggests we outline what we need money for and we do. Our to-do list at this point (from a message sent on 8/20/13):
Design the site
Code the site
Get the classroom schedule
Schedule weekly meets + get the class from Juliette
Organize a first event for newcomers
Build sponsorship tiers and incentives
Get sponsors
Open a bank account for PCC
We found that as a student org, there were too many levels of bureaucracy we had to deal with when accepting and spending money from external sources. We also found we couldn't open a bank account for it without incorporating. Luckily, all we ended up needing at that time was food (pizza as bait and sustenance), which the department agreed to pay for. This allowed us to put off some hard decisions. We intended to get sponsors throughout the semester, but managed to get through the next two semesters without external funding.
The Second Semester
This semester was the start of the actual code club. We were more prepared to run the club this time round, but not QUITE as prepared as we would like. The first meeting of the semester was on the third Friday.
8/29/2013
The PCC is set up with a table at the New School block party. People are interested from all over The New School.
8/27/2013
We schedule our home for the next semester. Room D1200, every Friday at 6pm.
9/20/2013
Our first meeting of the semester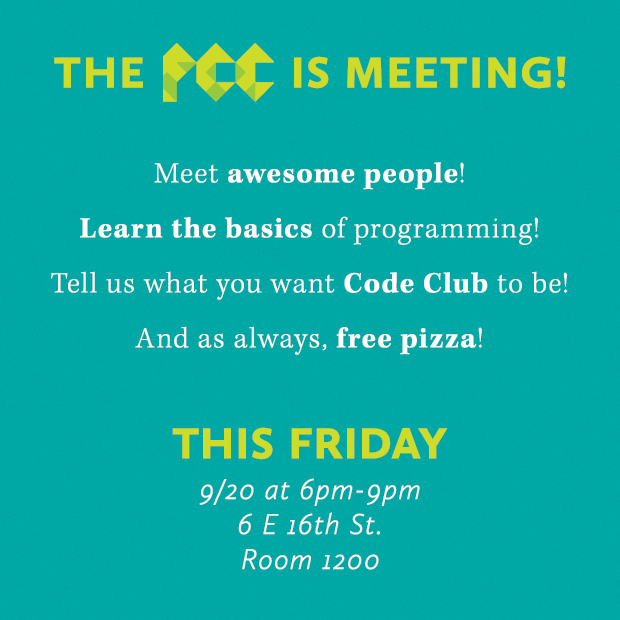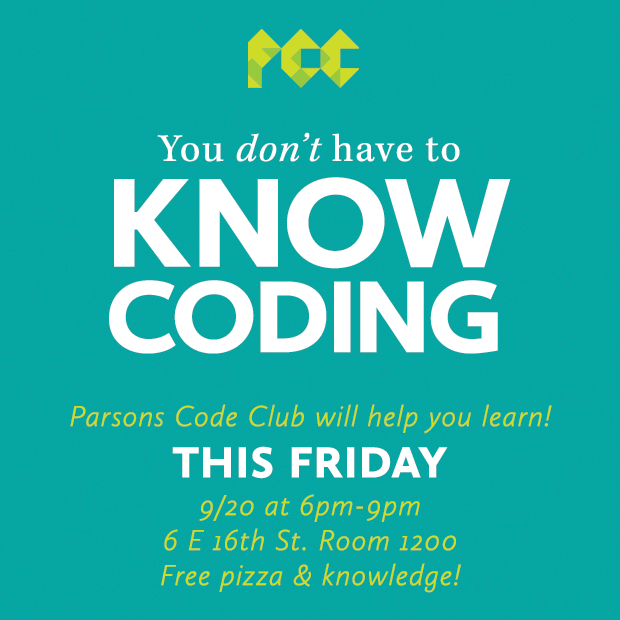 Our first meeting was simple. We asked everyone where they were and where they wanted to be in order to get a baseline for our audience and an understanding of what we should teach, then explained what we had in mind.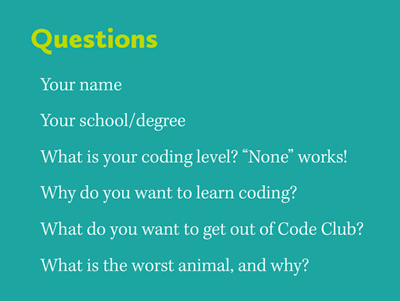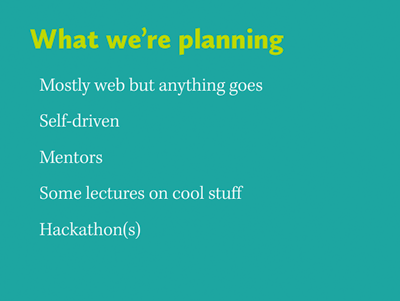 After this first meeting, people were excited. We had finally managed to communicate that Code Club was for everyone, not just for those who already knew how to code.
Nathan would come in almost every week, and other teachers came in as well. Our second meeting would be a basic lecture about the structure of the web.
9/27/2013
Dan and Rob lecture on the structure of the web (frontend, backend, databases, etc)
10/4/2013
We experiment with our first non-lecture workshop. Substantially less people show up.
10/5/2013
We co-host our first DemoDays at Techstars NY with Tech@NYU, ADICU, and create@cooper. Rob presents one of his projects along with many other NY students.
10/11/2013
Mal and Nathan teach CSS3 transitions.
10/25/2013
We set up weekly pizza orders with the department. This is an important milestone because until this point we were paying out of pocket every week, a clearly unsustainable method of running the club.
10/25/2013
Rob and I teach the club how to swagify their workstations with sublime plugins such as package manager and emmet, livereload, and chrome plugins.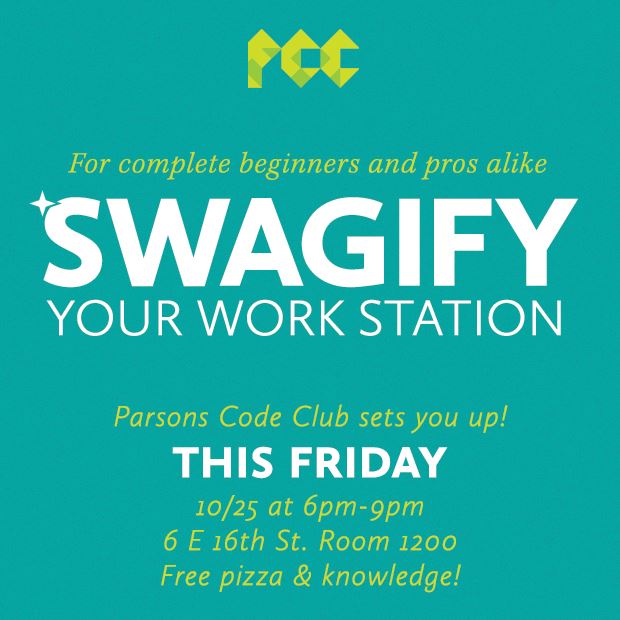 We have discussions once every couple of weeks about what we should be teaching. We want to get deeper into code and try some backend languages but most of our membership is still struggling with javascript. Teaching more complex stuff will remain a problem for us due to new people coming every time, but we are constantly searching for new technologies that will work in the context of code club.
11/1/2013
We run a "portfolio" tips workshop, teaching how to make sites responsive.
We have a conversation about better systems for our events and expanding our reach.
Bored in class, I whipped up an interactive color search thing which everyone seemed to enjoy. We ran a poll (like we do every week) to see whether they wanted to learn how to make it. The first week, portfolio tips won out. The second week was overwhelmingly towards building the color thing.
11/8/2013
I run a workshop called "how to make Joel's color thing in under an hour." We set our record with over 40 people in attendance AND get our first non-Parsons member from SVA's Graphic Design program.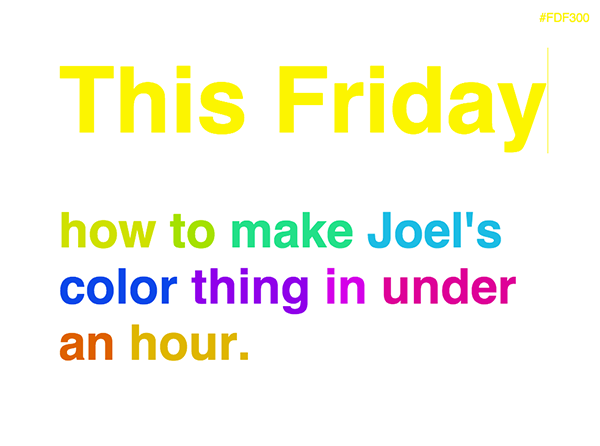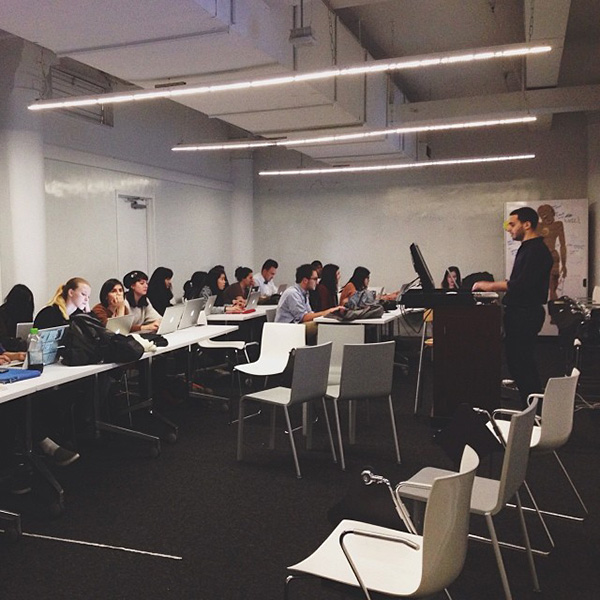 11/14/2013
Code Club becomes my senior thesis and I am able to dedicate more of my time towards it.
11/22/2013
Dan teaches how to build sites with Wordpress.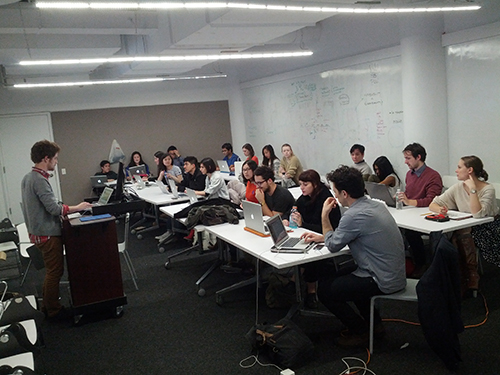 11/24/2013
We co-host our second DemoDays, the largest so far, at the Spotify offices. Four PCC members, including myself, present their projects.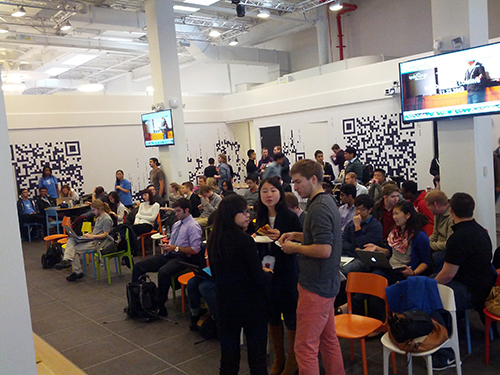 12/3/2013
At this point in the semester, students are preoccupied with their finals. We decided to go all out on our final meeting of the semester — The Code Club Finals Jam.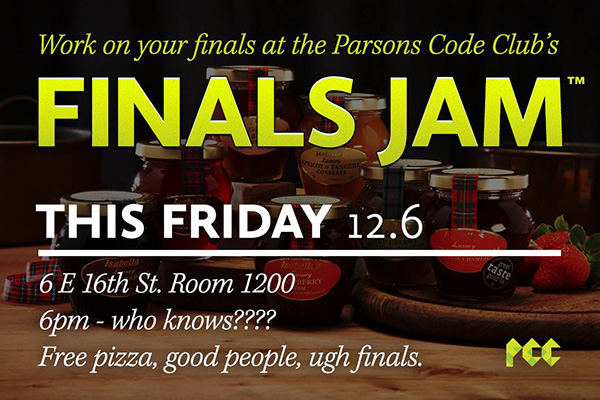 We Evolve
Meanwhile, we continue discussing how to get external funding. Leslie Henkel helped us get the correct information. She would prove invaluable to the club on many occasions.
Which prompted the first time we discussed turning the org into a non-profit.
Throughout the short history of Design & Code, we have constantly ramped up our ambitions for what this organization could and should accomplish. When we set on the path to becomign a non-profit, we realized that serving only Parsons was not really that impactful. Our mission was to expose designers to code in order to better the industry, and quite a few designers existed outside of Parsons.
We invited a few members to help think about how to scope the new organization with us. Were we interested in helping only designers to code? Only design students? Maybe all creatives? Perhaps we could be a Code Club for everyone, differentiated by the fact that we were led by designers rather than developers. After a few meetings and many more emails and Facebook messages, we decided that we would start with design students and leave the door open to expand to all designers in the future. Our first steps would be to expand to other design schools such as RISD and SVA.
Once we set the scope, it was time to think of a new name. Parsons Code Club was great for the local club, and we could exchange Parsons with other design school if we needed to, but we still needed a name for the organization above these local clubs.
Another thing I dealt with between this time and when we filed for incorporation and 501(c)3 status a few months later was figuring out whether I'd be deported once I joined the board.
It is worth noting that designandcode.co is the domain we ended up getting after the next evolution of the club and designandhack.org is the domain we ended up getting for our hackathon, both about 5 months later and after more brainstorming. Things come full circle.
This message chain goes on forever and is already edited for clarity.
This is just a small excerpt of one of the many conversations and brainstorm sessions. We end up with an exceptionally long list of potential names, but both our selected name, and the name we would end up selecting the third time round were mentioned during this first conversation.
We finally selected the name "Creative Code Club." "Creative" made clear the target audience, "Code" made clear the subject, and "Club" made clear that it was meant for a school setting.
Understandably, not all of us were interested in the responsibilities of running a non-profit. Rob, Dan and I decided to take it upon ourselves to build this larger organization.
Branding Creative Code Club
Rob's PCC branding was fantastic, but it was a very initial idea. We never took the time to think about what our brand should represent. Along with our new name, a rebranding was in order.
The first task was figuring out what we wanted the brand to communicate. We put together a list of words that we want the brand to imbue.
Intelligence
Unity
Progress
Dynamism / Flexibility
Tech
Design
Friendly / Welcoming
We also took inspiration from generative brands such as MIT Media Lab and Current. As an organization that teaches code, it seemed fitting to have a brand with an element of code.
11/30/2013
I start the rebranding process and send everyone my first sketch.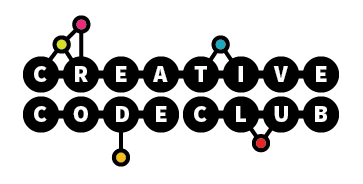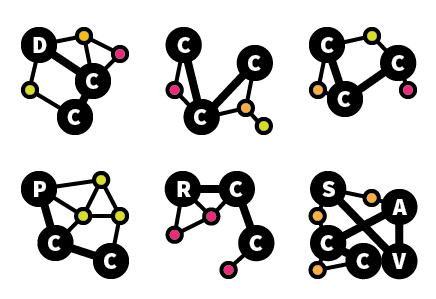 The idea was to allow for different schools to exist within a single unified brand system. This started a conversation regarding whether unity was a positive thing in this case, where exactly local chapters would fit within the larger organization and why they would want to be part of it.
For a while, I continue playing off of the first logo for a while to see where it goes.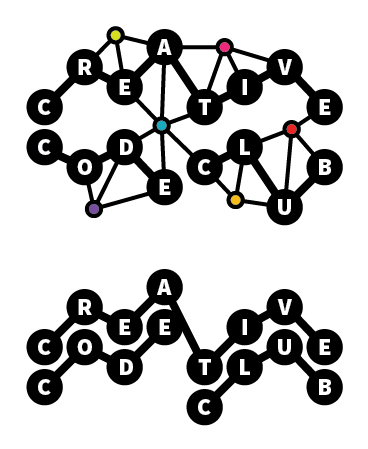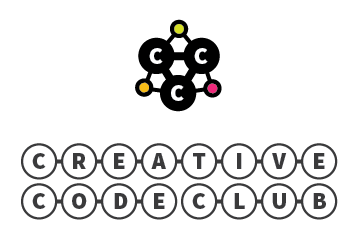 I then have an idea for a new direction. The 3 Cs lend themselves to a configuration where each C is nested within the previous one. In action, this brand would be written in code and each concentric C would have a different rotation every time the logo was displayed or printed. It could also be animated
Over the next few days, I develop this idea further.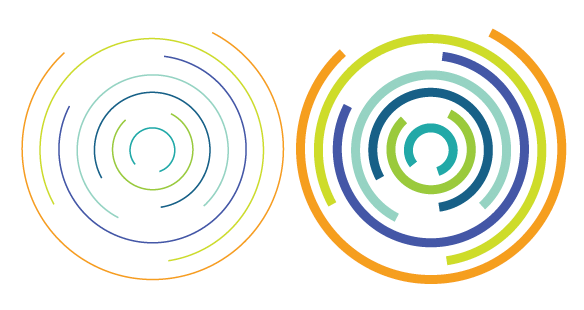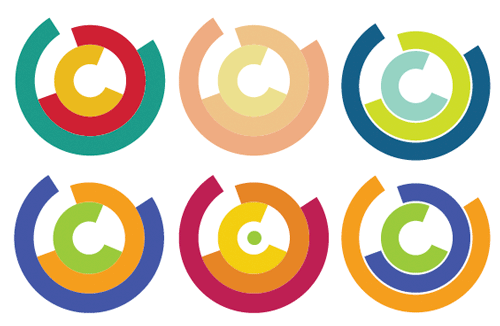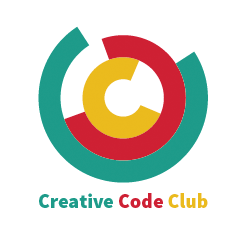 I build an Android app that demonstrates the interactive and generative nature of this brand.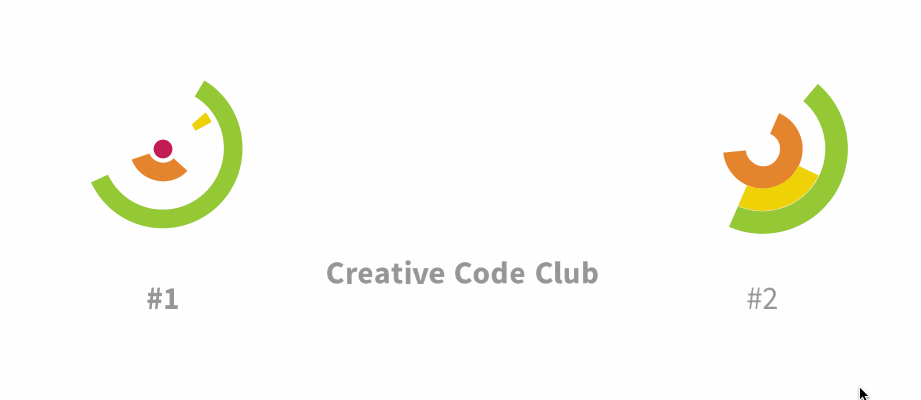 The logo looks great but has a few problems that end up being dealbreakers.
It's hard to extend into a brand system
There's not enough variability between generations of the logo. Every version holds the same real estate and looks almost the same.
It's kind of generic. In fact, every other logo for a company with the initials CCC is the same.

I scrap the brand and continue sketching and trying to find something solid. I ask a friend, Flora Chan for some help.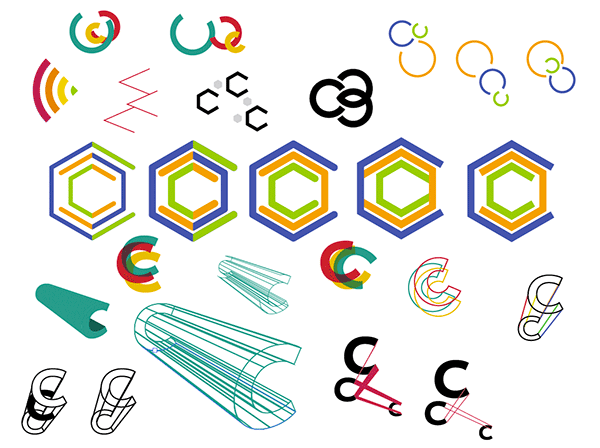 I continue sketching possible directions and finally the idea of three Cs in random places in the lockup, connected by lines, catches my attention.
I develop another app that maps the point where you tap along the Y axis to the spread of the Cs on the screen. It's a delightful experience and results in many interesting logos.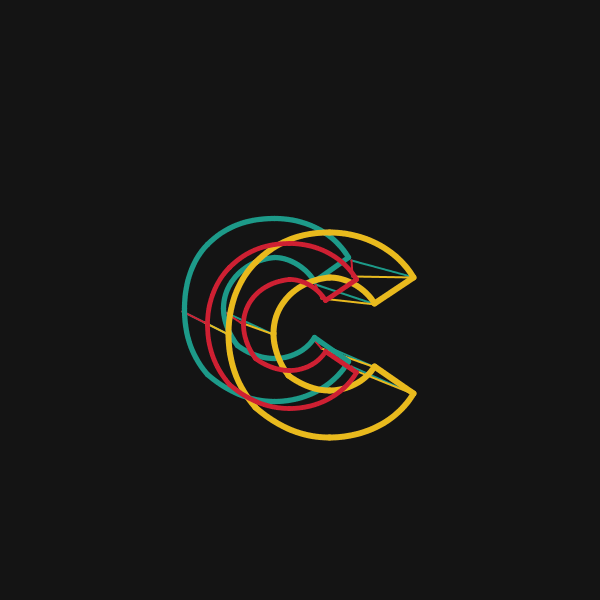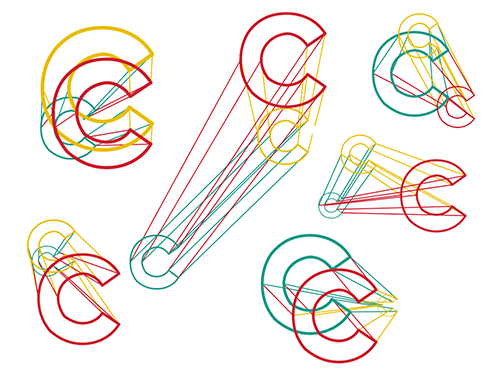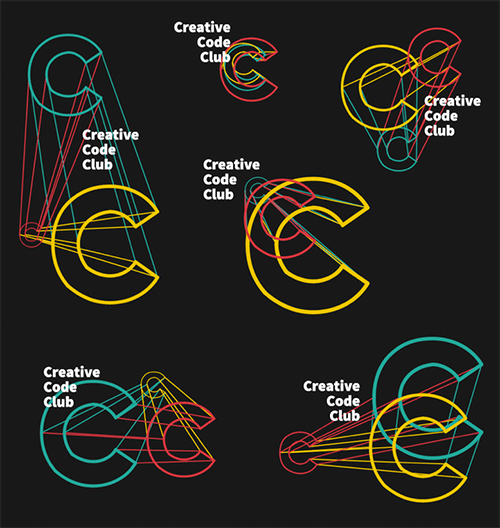 This is the brand which we'll use throughout the next semester, until our next evolution as an organization.

Becoming a Non-Profit
To do everything we intended to do with the organization, we needed to accept funding, and to do that we needed to be incorporated. From the start, becoming a 501(c)3 non-profit seemed like the best route. We had never intended to make any money off of the Code Club, and a non-profit suited our altruistic origins. With 501(c)3 status, we could then accept grants as well as tax-deductable donations, and grow the organization. We spoke about it several times over the course of running the club.
...and a month later:
When we finally got around to it, Dan was already planning on filing an application for his other project, Wikitongues, to become a non-profit, so I asked him whether he could take the lead on our process as well.
We started a Facebook chat called "C3 Board of Directors."
2/18/2014
Our first meeting as the yet-unofficial board of Creative Code Club
We work on crafting our mission statement for our incorporation application.
3/4/2014
We file our incorporation paperwork.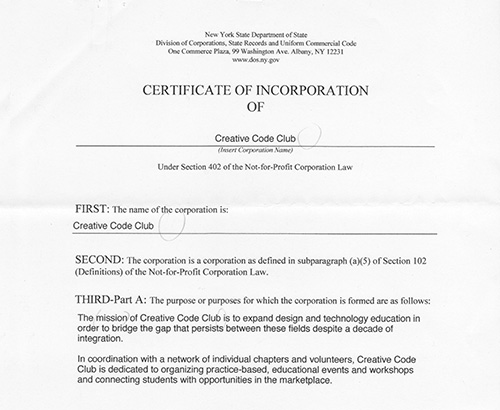 The mission statement turned out not to be crafted well enough
3/25/2014
Our incorporation application is rejected for being "too vague."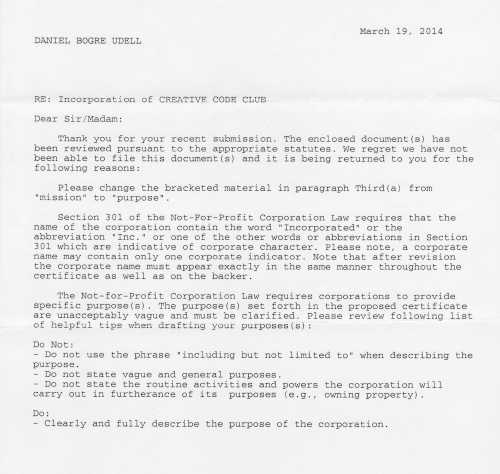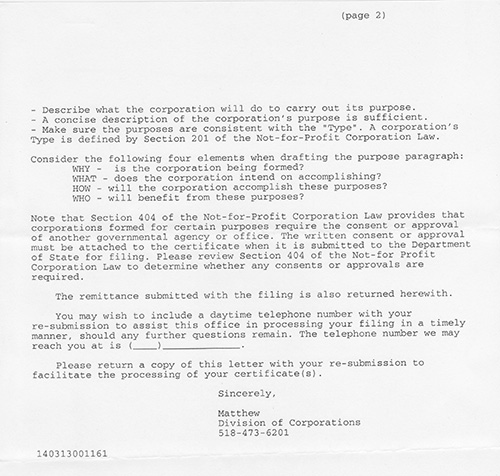 The rejection was actually serendipitous as it came during a period of transition from what the Creative Code Club was at the time to something more ambitious.
We took advantage of the rejection to draft a new mission statement that fit more closely with our new scope.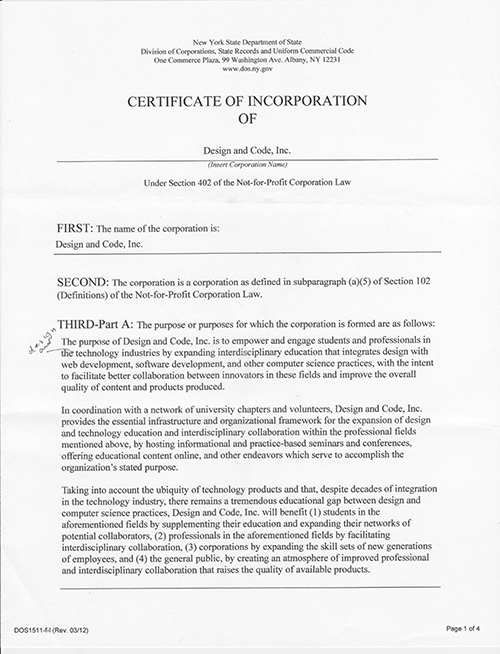 Unfortunately, Dan left the board shortly thereafter to focus on other projects, and at least 3 board members are required to file for 501(c)3 status, so the process is currently on hold.
Parsons Code Club: Third Semester
A few things would happen during this semester. We'd be getting by far the highest attendance since the club's initial founding. The first new code club branch would be launched in another design school. We'd be organizing our first hackathon, developing connections with companies and other student organizations.
In terms of the Parsons Creative Code Club, we felt as though we had a great grasp of what had to be done. We had a tentative schedule with a number of guest speakers and a brand new room in a brand new building. More than enough outlets for everyone and 3 large screens which we could also use for remote sessions. It was looking to be a great semester, and in most ways, it was.
Unlike previous semesters, we were ready relatively early. Our first meeting was on the second Friday of the semester.
2/7/2014
First meeting of our first semester, kind of like the first meeting in the previous semester.
Our new classroom was completely full on the first day, mostly with new students.
2/14/2014
Mallory, Rob and Jayne run a valentines-day-themed front-end refresher ("You had me at Hello World") while Dan and I go to PennApps.
From this point on, we tried to have more people come in to talk rather than run the workshops ourselves.
2/21/2014
Mattan Griffel of One Month Rails comes in to give an intro to Rails in a workshop called "how to teach yourself how to code." Fifty people show up. Slides are available here.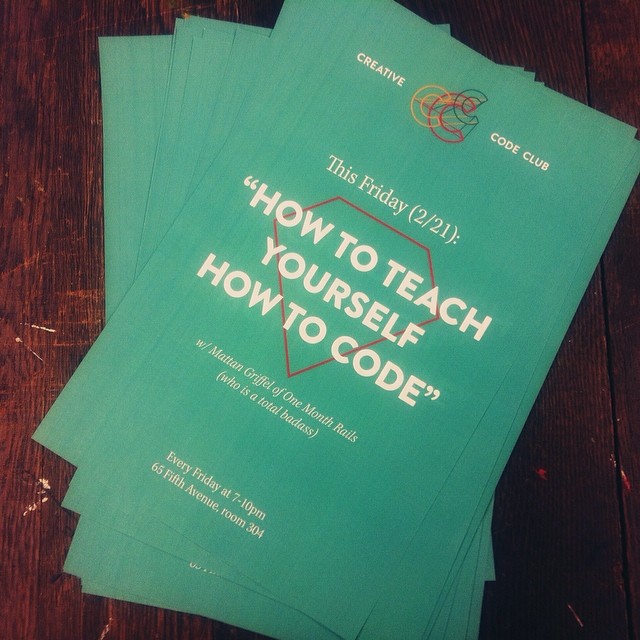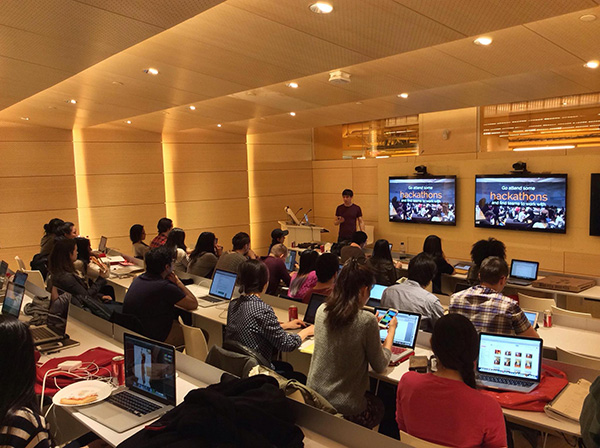 2/22/2014
Another DemoDays, this time at Cooper Union.
2/28/2014
Ashu Desai of MakeGamesWith.Us comes in to teach an intro to iOS development by making Flappy Bird. We invite the New School Game Club to join us, as our weekly meetings overlap.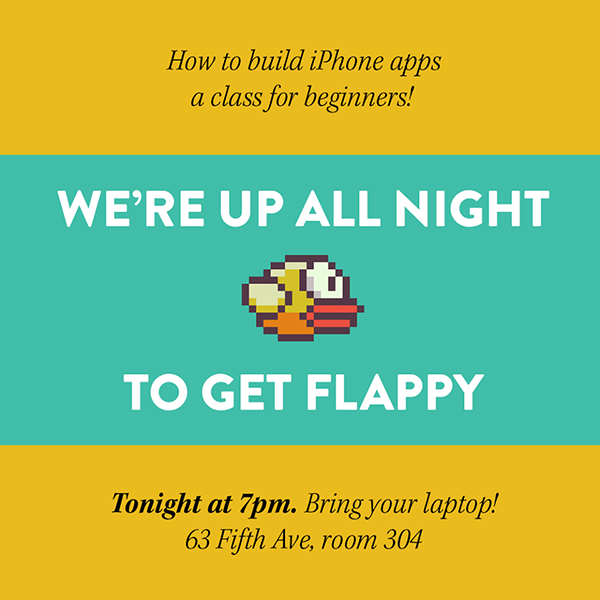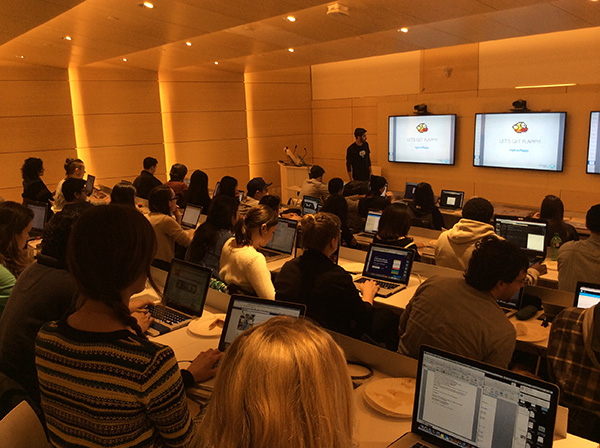 After the Flappy Bird workshop, I decide to take a step back from the Parsons Code Club and focus on the non-profit, the hackathon, and the new branch at SVA.
3/7/2014
Instead of our weekly meeting, we co-hosted a mini design hackathon at the Squarespace offices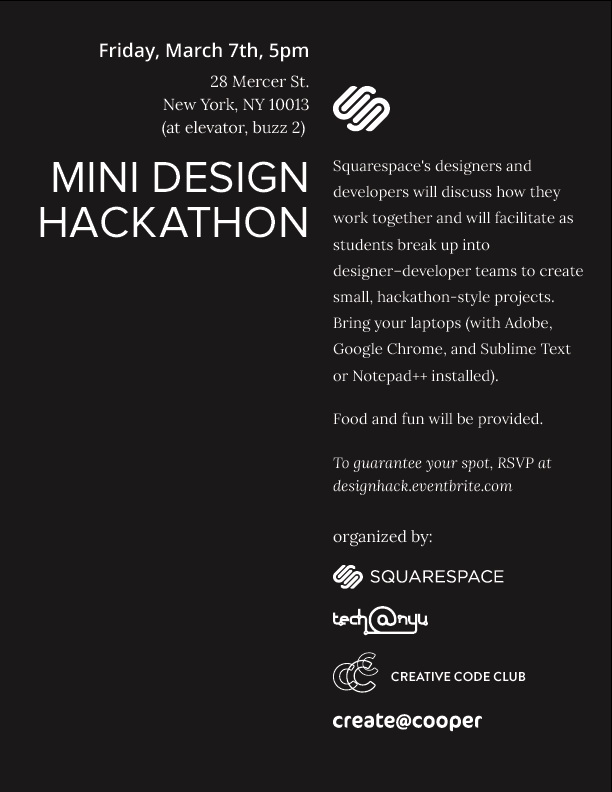 3/14/2014
Will Anderson came in to teach us how to make our own Twitter bots — accounts that automatically tweet or retweet based on programmed parameters..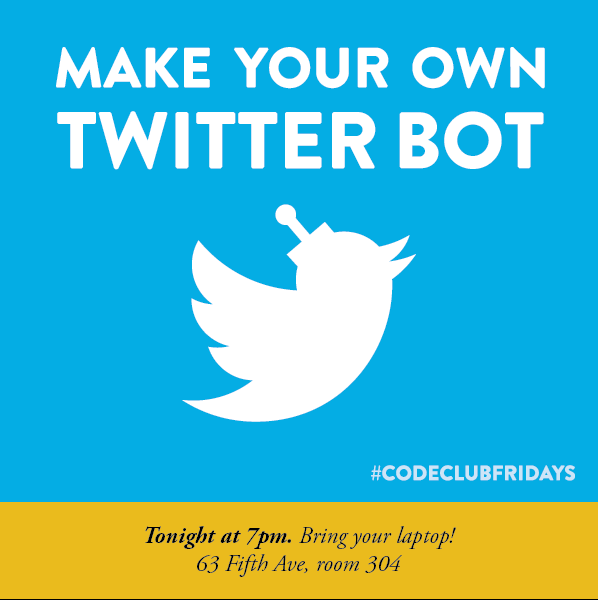 3/21/2014
Justin Bakse comes in to teach us how to create generative art.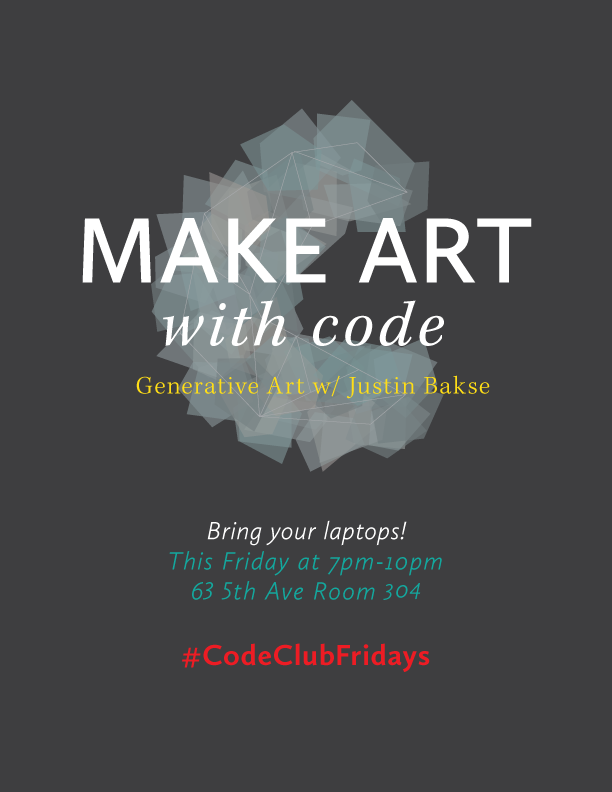 Near the end of the semester, things taper off. We hadn't planned any workshops in advance and stop advertising them on our channels. Most members stop coming. We have one final session — a finals jam — and begin organizing the next semester so we'll have something every single week and a schedule in advance.
5/9/2014
Our second semesterly finals jam.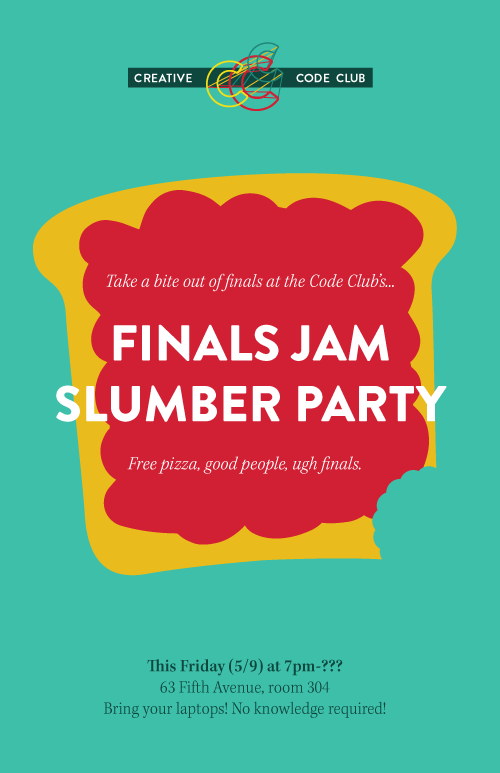 Our First New Branch
Since the moment we decided to become more than just Parsons Code Club, we wanted to bring the club to other schools and create a network of designers who are passionate about learning to code. The idea of bringing SVA into the fold was floating around since the start. As another great design school in the same area as Parsons, extending the Code Club there made sense for our pilot.
In late January 2014, I reach out to SVA through Liz Danzico and to RISD through Nancy Skolos.
Liz forwards the emails to the MFA IxD students currently at SVA.
Meanwhile, word trickles down at RISD to Evelyn Eastmond, a teacher who runs an organization called Code Studio, which is almost exactly the same as Code Club except run by teachers. We discuss launching a branch of Code Club there, a venture that is still a possibility but was never explored. A day later, I get an email from Sam Wander, an student at SVA's MFA IxD program.
Luke is currently in Europe, so we wait until he returns to schedule a meeting, about a month later.
2/20/2014
Sam, Luke and I meet and talk about a potential Code Club at SVA.
3/2/2014
Sam, Luke, Pedro, Robert and I meet and talk about getting the SVA Code Club up and running.
After the meeting, we message back and forth and they find the best date for the first meeting. The plan is for Rob and I to come in and lecture about how the web is built. The session is planned the same way that all of our first sessions in previous semesters were.
4/2/2014
The first SVA Code Club meeting. This is also the first Code Club meeting ever that is not at Parsons.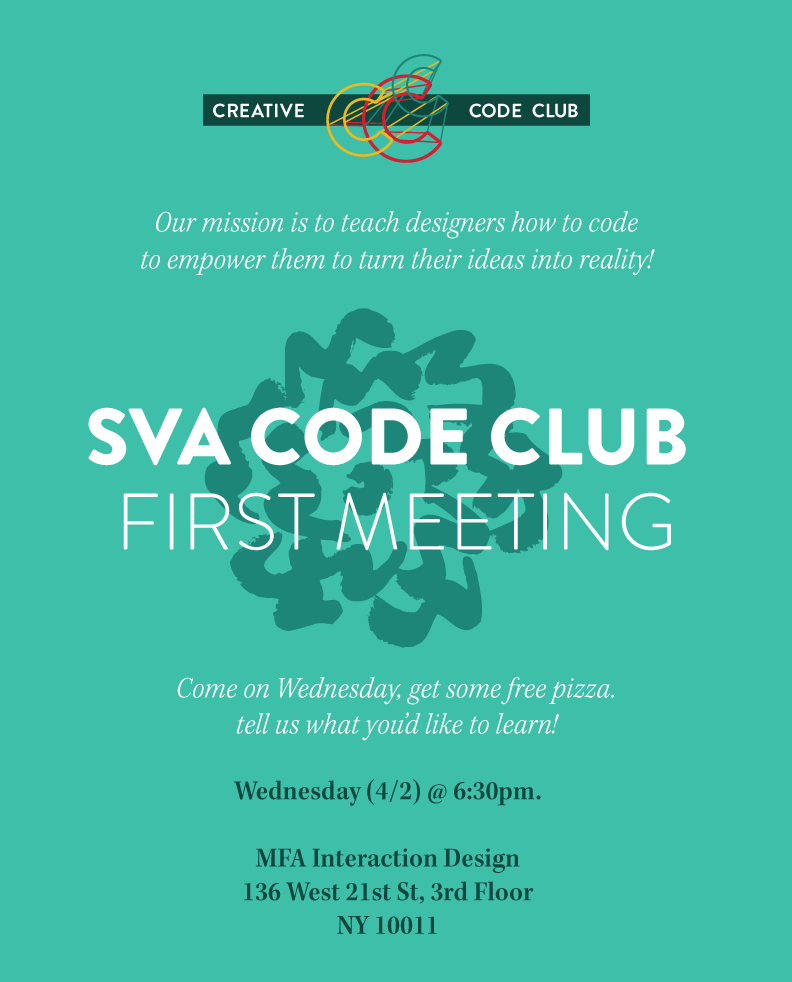 A week later we have another SVA Code Club and run a CSS and HTML workshop.
4/2/2014
Rob and I teach CSS & HTML at SVA Code Club
We opened this new club pretty late in the semester so there wasn't a whole lot of planning involved. Over the summer, we'll set up an organized schedule for both clubs and start cross-publicizing. In the meanwhile, this is our now organizational structure:
Design & Code Leadership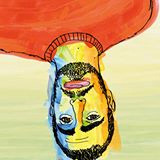 Joel Califa
President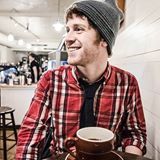 Daniel Udell
Board Member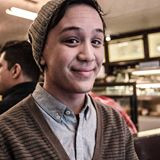 Robert Vinluan
Board Member
Parsons Branch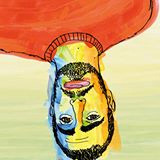 Joel Califa
President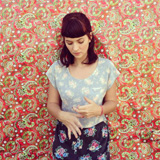 Mallory Brennan
Vice President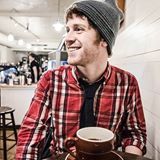 Daniel Udell
Communications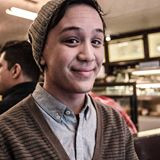 Robert Vinluan
Treasurer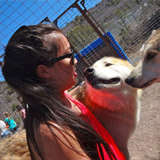 Jayne Lee
Secretary
SVA Branch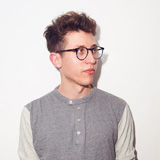 Sam Wander
Leader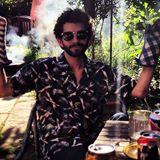 Luke Stern
Leader
Design & Hack
The idea for a Code Club hackathon existed from the day we started it. The idea for a joint hackathon equally attended by designers and developers was discussed as early as 3/4/2013, when I met with Zack Newman of ADICU. We discussed a possible hackathon attended by Parsons and Columbia students. Three months later I discussed the same idea with Emanuel Hahn of Tech@NYU the first time we talked. Only year or so later would this idea materialize.
Running joke. Putting together a hackathon has always been on our to-do list, but about half a year goes by before I pick it up again. In early December I decide to make the Code Club hackathon a priority for the following semester (January—May 2014). Serendipity strikes when Alexey Komissarouk, founder of PennApps, invites me to Hackcon, a conference for student hackathon organizers from all over the country. Before the conference, I talk with other NYC student leaders about my plans and word gets back to Zack from ADICU.
Right before Hackcon, I was given access to a document shared between hackathon organizers. My impression of being able to schedule a hackathon pretty much anytime was quickly shattered with the realization that almost every weekend was taken by at least 2 other hackathons. The only date that made any sense was April 18th, and so that is when we planned for.
2/1/2014
Rob, Freddie, Dan and I go to Hackcon.

Hackcon is a fantastic experience, with a hundred student organizers and, over the course of two days, talks by organizers of the largest student hackathons in the world. Brynn Claypoole of PennApps gives a talk on Logistics and Crisis Management. Organizers from HackMIT talk about building their organization and those from Hacktech describe a crisis right before their hackathon at Caltech. Chris from MHacks talks about team recruitment and development. We discuss women and minorities in hackathons, proper codes of conducts, the sponsors' perspective, budgeting, and many more important aspects of organizing teams and events. In between we party and get to know eachother, building relationships that will end up helping our efforts and adding a lot of experience to our team.
The moment it ends I get in touch with the other NY student tech leaders to see where everyone is at.
2/6/2014
I meet with Emanuel and Steven from Tech@NYU, and Zack from ADICU to discuss Design & Hack for the first time.
The vision I had for Design & Hack played off of other student hackathons, where students felt the absence of designers. This hackathon would be differentiated by an emphasis on design. The idea was to put many designers and developers in one space and have them collaborate on projects, through which they would learn from each other. Emphasis would be put on education. Developers would leave this event with a new appreciation for design, and designers would leave with a new understanding of programming. Judging would also focus heavily on usability rather than a brief mention of visual design. The final projects from such a hackathon would potentitally be of a higher caliber than most hackathons.
Everyone present was excited about the idea. Zack was in charge of DevFest at the time, and said that the ADICU student leaders wouldn't have time to contribute. Emanuel and Steven were on board. We set a time to meet with a larger team and put together a game plan.
2/10/2014
I meet with Robert Vinluan (from the Code Club), Emanuel Hahn, Steven Chan and Ethan Resnick (from Tech@NYU) and Eric Leong (from create@cooper).
During the meeting we We went over a guide to budgeting a hackathon written by Ishaan Gulrajani of HackMIT, discussed potential spaces, sponsors, judges and how to frame the hackathon. The notes from this first meeting:
Goals:
Build lasting relationships between developers and designers.
Make it a learning experience rather than just a making experience.
Turn it into THE annual design hackathon.
After: designers should feel comfortable going to other hackathons
Notes:
Maybe have a research stage in the hackathon

Find a way to make this fun
Have a talk about research basics?
Mechanical Turk for quick surveys?

Expose people based on interests. Make pools of people for grouping.
Are the time constraints of a hackathon what we want?
Target specific schools to come
Design mentors
Dev mentors
Is it process over product? Message that from the beginning

Two rounds of judging, first round critique
Specific type of working / process
Set out from the start so everyone feels comfortable working in a collaborative process
Developers tend to forget about designers

Messaging has to be very specific. Not too weird so people step out.
To do: figure out the cost of these things.
Event space
Furniture
Power
Transportation

For hackers
For mentors / judges

Food & drinks

Local vendors
Redbull, energy drinks, etc
Account for tip

Swag
Lodging, or maybe a space
Projectors, mics, etc
Prize money
Aim for more money
We would soon put together a more in depth budget spreadsheet and conclude that our minimum budget for an acceptable hackathon was around $40,000 and the maximum was we'd need if we overspent on quality was $90,000. We would shoot for something in between.
The people in attendance, along with Dan Udell, made up the core organizing team working on Design & Hack at the time. A hackathon is a huge project, especially one with the scale I had in mind in the timeframe we were stuck with. We decided to let the Parsons Code Club focus on the local branch, while the board of the Creative Code Club (Rob, Dan and I) would take initiative on the hackathon. From Tech@NYU we had Emanuel, Steven, and Ethan. The organizers behind create@cooper did not have time to help out an organization, but Eric was on board so, considering our collaboration with them on DemoDays, we put their logo on the site anyway.
The same day I start a group chat on Facebook for organizers of Design & Hack. This chat would grow to accumulate 2200 messages.
Meanwhile, Rob and I start working on the branding for the event
Though we experiment with other titles in the beginning, the name for Design & Hack sticks rather quickly. Hackathons suffer from a lack of designers, and ours was attempting to solve this problem by making designers feel comfortable in the space. Hackathons are daunting to many designers and without "design" in the name, they might not understand that they had a place at the event. "Hack" is important for the same reason. Developers need to understand that while this event is designer-friendly, it is in a way just like any other hackathon.
2/7/2014
I send Rob my initial sketches for the lockup, the earliest of which I put together during Hackcon. The idea is to have very design-y lettering but to end the swashes with sparks that communicate technology and creativity.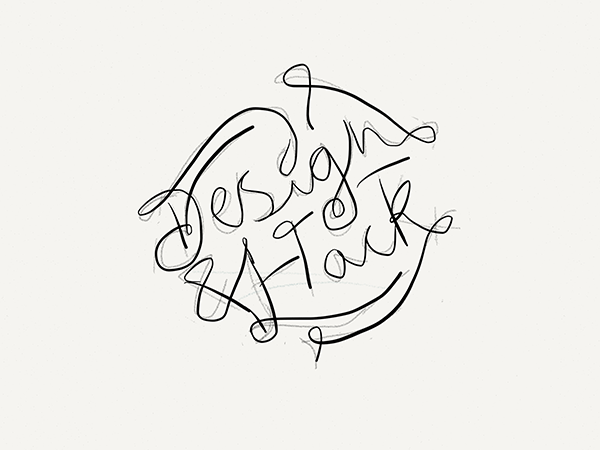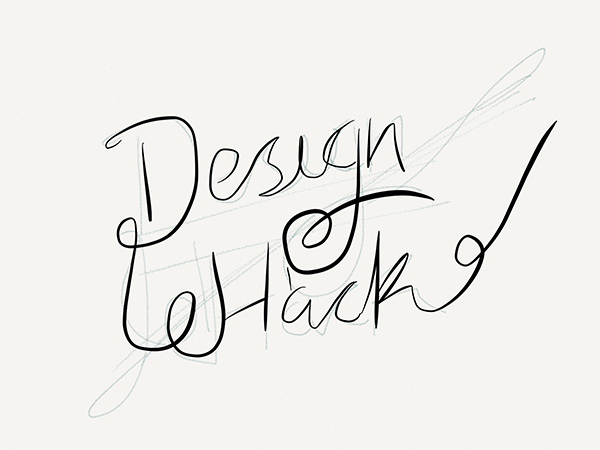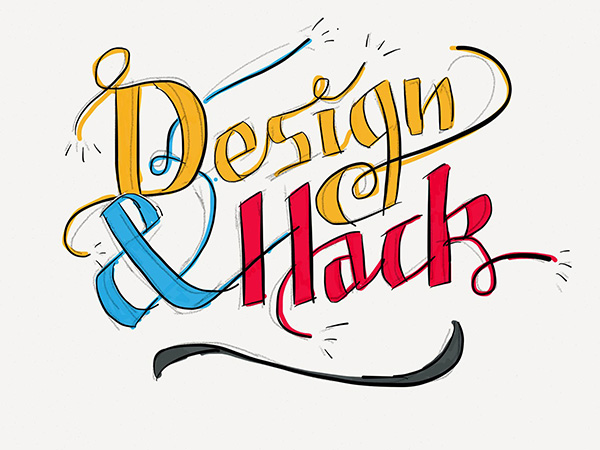 I continue working on the lettering, using a strict grid and trying for a techy feel.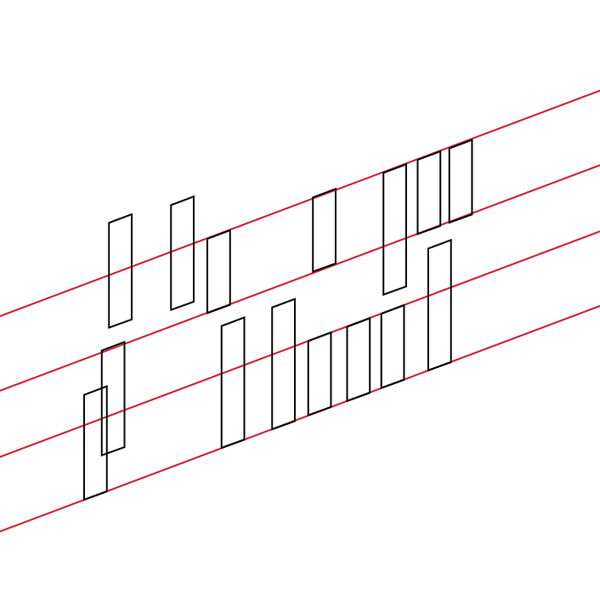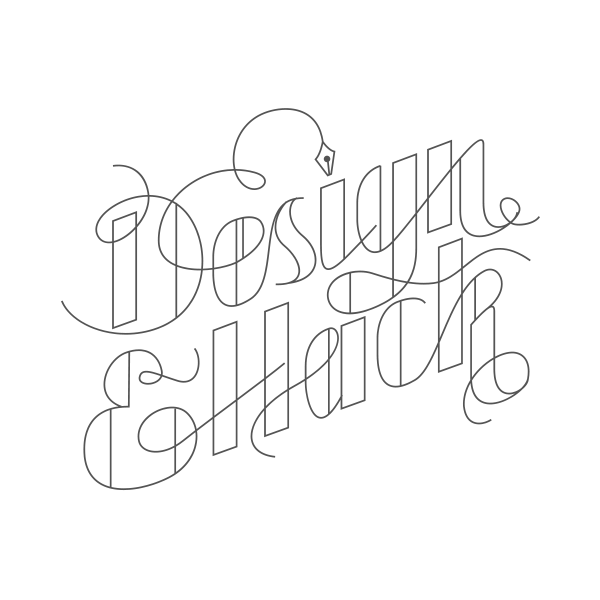 The logo now feels too techy, so I incrementally tone it down by adding curves.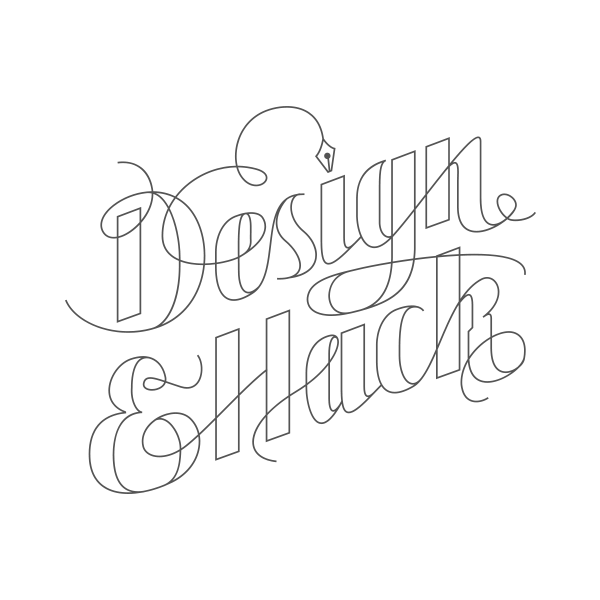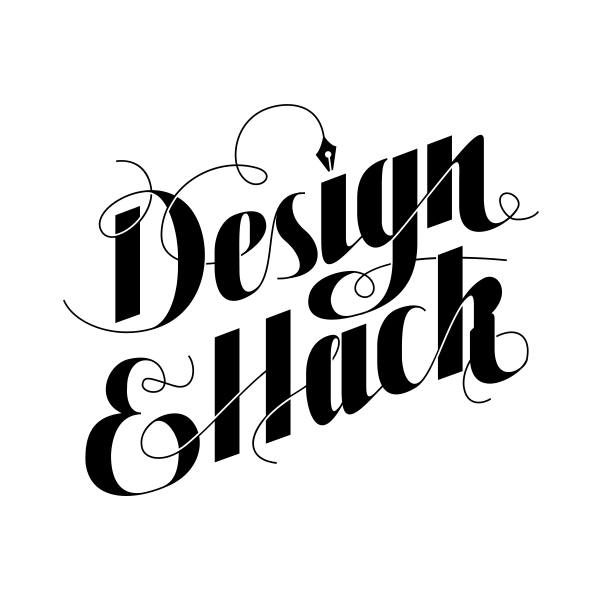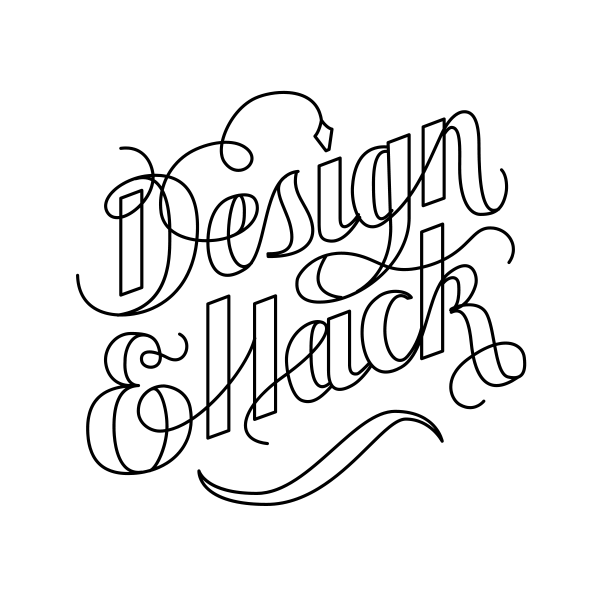 I send Rob the Illustrator file on the 20th. He redraws the curves from scratch, making them more human than techy and thickening the weight of the strokes.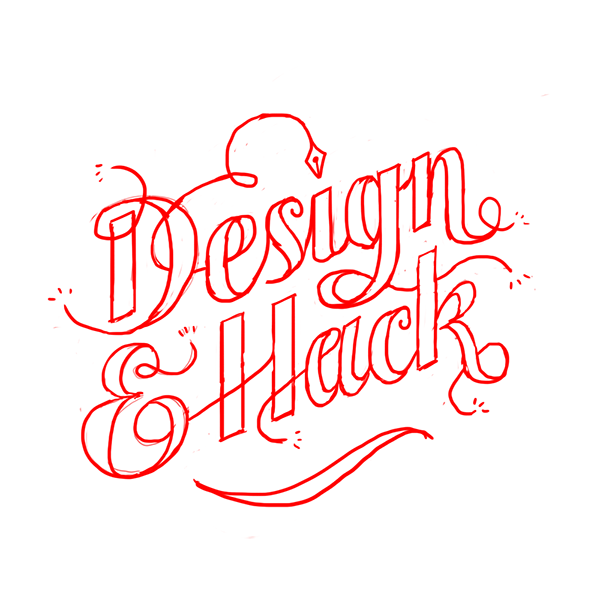 We decide to lose the sparks at the end of the swashes and replace the pen with a spark. The logo is getting too design-y as it is and we want to make it clear that this is also an event for developers.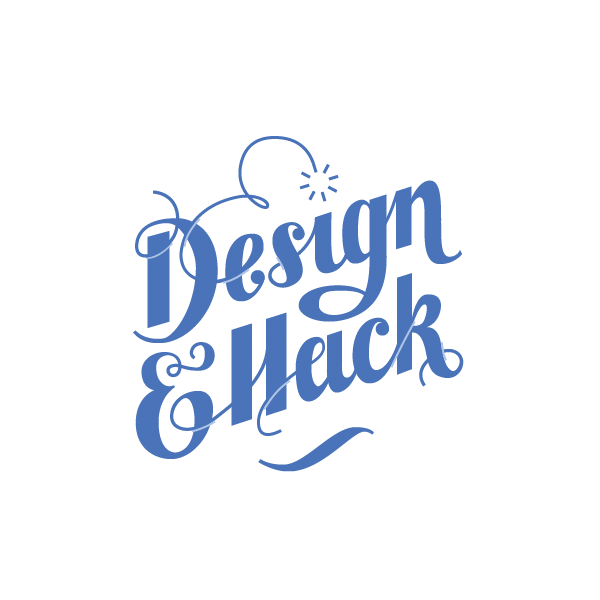 Some people confuse the spark with a fuse, others confuse it with a dandelion. I decide to replace it with a plug. It's not a symbol inherently tied to developers, but it does manage to make the logo more relevant. After some more refinement to the curves, strokes and weights, we had our final logo.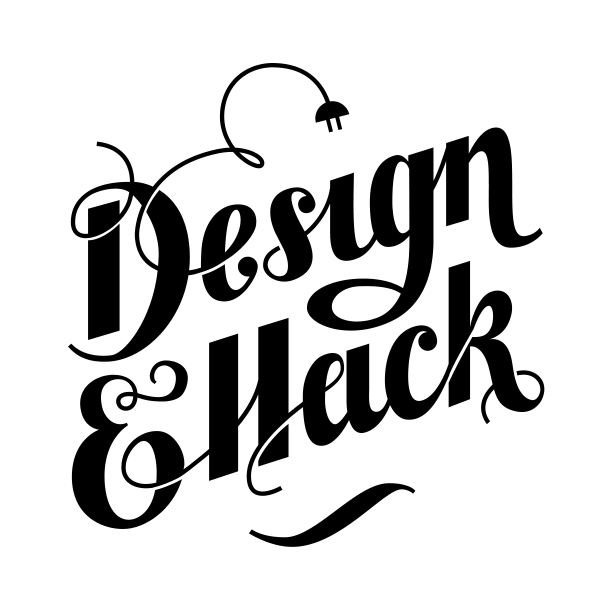 We now have our brand and are ready to begin working on the website.
Ten days after the initial meeting, almost no progress is made on the search for spaces. Most places can't house 400 people, and none of the organizers except for myself and Steven have reached out to people yet. The chat remains dead until our second meeting, with about a month and a half to get everything done.
2/26/2014
I meet with Rob, Emanuel, Steven, Ethan, Eric and Cheryl who joins the team and takes charge of catering quotes. Rob takes charge of getting quotes on swag.
2/26/2014
Dan reaches out to Spotify and Etsy to see if they can host the event.
3/1/2014
I reach out to Kickstarter, App Nexus to see if they'd be willing to host in their new offices.
At this point we are also getting the site on track. I send Rob the initial wireframe.

He responds with an initial visual design.

3/5/2014
AppNexus responds that they can't host. We finish registering our backup location: 4 entire floors at Parsons.
The Facebook chat begins to pickup and the other organizers start searching for spaces. I go to SXSW and get in touch with new potential sponsors such as IBM Design, Saatchi & Saatchi and KPCB.
3/7/2014
Etsy responds that they can't host.
3/8/2014
Rob and I finish the site design and I upload the first version of our sponsorship tiers from SXSW.

I meet one on one with John Maeda at SXSW and get some feedback on Code Club and Design & Hack. He is open to keynote but needs to check if he can. He also provides me with some priceless advice that really affects my vision for the organization.
At the same time, hype begins to grow surrounding Design & Hack. People from all over the country start asking about travel reimbursements and buses without us even putting a site online.
On 3/11 I discuss the sponsorship package with Mike Swift, who tells me about his idea for a modular funding system, which I then put into action. These modular tiers ended up working in our favor. When companies couldn't do a certain tier but were interested in sponsoring close to that level, we mixed and matched what we had to offer until we reached a price they were fine with.
We deliberate whether to include the co-host tier. If we'd have John Maeda deliver the keynote, we couldn't include that in the sponsorship package. If we hosted the event at the Kickstarter offices, we couldn't have a different company be the co-host. Soon after, Kickstarter answers.
3/11/2014
Kickstarter gets back to us. They can't host this year's event as they have yet to settle into their offices. With no time to find a new space, we decide to make the best of our backup location at Parsons.
We have some internal discussions and I get some feedback from people with more experience running hackathons and we get to our final sponsorship numbers. They are up at our sponsorship page.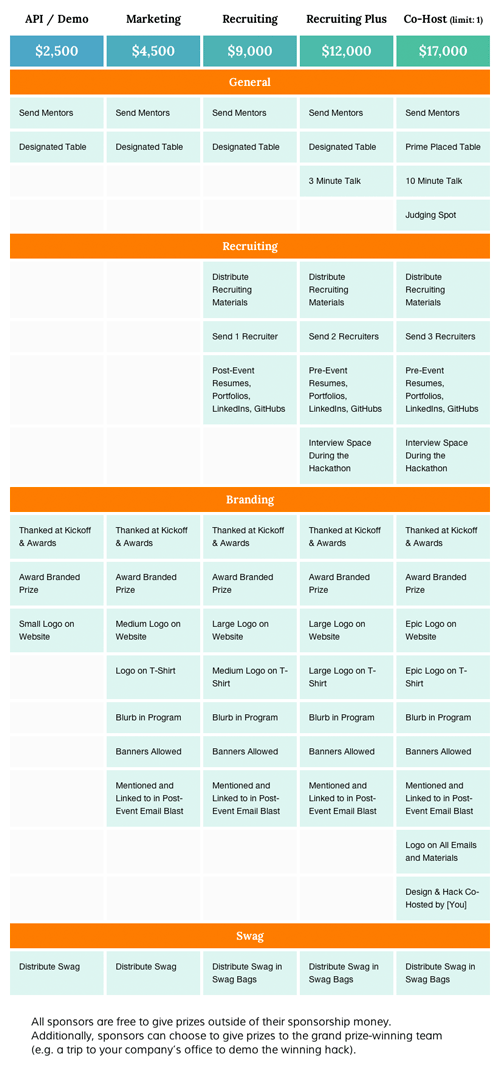 In the meanwhile, Eric checks whether we can use Cooper Union as escrow, since none of our organizations are incorporated at this point. We end up using Major League Hacking as escrow for the event.
3/15/2014
We launch the Design & Hack website.
On March 15th we finally launch the Design & Hack website. In the first 5 minutes we get 20 signups. In the first day we get over 1000 unique visitors and 250 signups. The next day I fly to Israel and spend the next 2 weeks working on Design & Hack remotely.
The team begins to stagnate again and on 3/16 Dan and I try to get things back on track.
In the following days Cheryl looks into more food vendors, Emanuel works on promoting the event. Dan and I continue to reach out to sponsors. I put together a list of sponsors and begin delegating outreach.
3/17/2014
Adobe reaches out to us about sponsoring. This is the first sponsor we haven't reached out to first.
At this point no sponsor has signed on yet. We think about widening our net and reaching out to sponsors unrelated to design and tech. We quickly decide against it, not wanting to hurt the experience of Design & Hack by bringing in irrelevant sponsors. We continue reaching out to sponsors other hackathons wouldn't be able to tap, such as type foundries and design firms.
At the same time, there are complications in the space registration at Parsons and we lose our auditorium for kickoff and closing. The chat has stagnated again with only 3 or so of us consistently active. I begin to stress that we aren't working hard enough.
We start hustling to get an auditorium space. Eric reaches out to Cooper Union, Emanuel reaches out to several schools within NYU and we try to find alternate spaces at Parsons and The New School. We also start organizing volunteers though our volunteer page. This is an incredibly fruitful day, and the great bulk of messages in this thread (1,500/2,200) are from this day forward.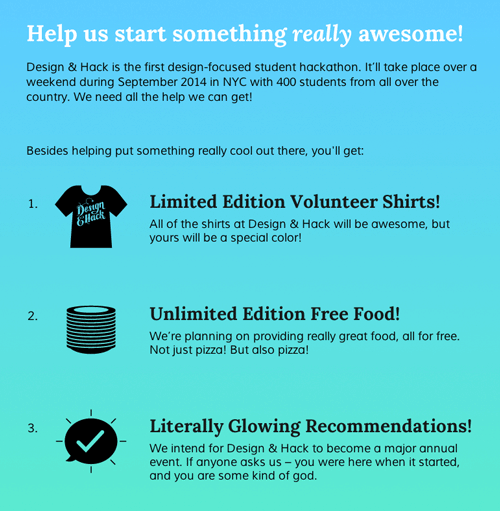 A day later, due to time constraints, a few of the organizers bow out of the event and some of those still organizing make it clear that they don't have much time to dedicate. The team is now comprised of me, Rob, Dan, Emanuel and Cheryl. In a week or so Steven will also return to the fold.
3/20/2014
Several team members bow out of organizing the event.
Cheryl codes a script to see how many schools with have signed up for the event.
3/20/2014
We now have almost a hundred different schools signed up for the event.
We continue reaching out to print shops for quotes on swag and emailing with sponsors. Among others, Dan is in touch with Etsy and Shutterstock, I am in touch with Facebook and Squarespace, Rob is in touch with foundries, and Emanuel is in touch with Stripe and IDEO. Most sponsors seem interested and things are looking up. Cheryl puts together a list of more potential sponsors. We talk about how to cold email sponsors. Between 3/17 and 3/29 I am in touch with around 50 potential sponsors that fit our criteria.
I send some examples and put together a detailed guide of how I reach out to sponsors for the rest to read.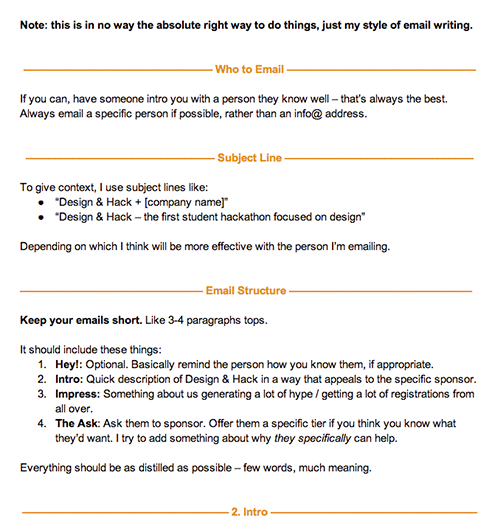 3/21/2014
None of the auditoriums we were trying to get at Parsons and The New School were available. NYU and Cooper have yet to answer us.
We begin looking for alternate spaces that are less standard. At some point, we even look into hosting the kickoff at Washington Square Park (Emanuel's radical idea) and find out what the required paperwork is for the city to let us do it. We are told that if John Maeda, who we are still in touch with, delivers the keynote, then we may have enough political power within the school to get the auditorium for kickoff and closing. A few days later John Maeda responds that, unfortunately, he cannot participate during our specific dates. Emanuel keeps emailing facilities people around NYU in the hopes of finding an auditoirum space large enough.
3/23/2014
Since we are a few organizers down, I recruit Sam Hutch to the team.
Within the first few hours, Sam reorganizes our entire Google Drive folder and builds smart spreadsheets that are easier for us to collaborate on.
3/23/2014
Webtype signs on as our first sponsor.
On my end, I am still stressing about getting sponsors and try to get the team hustling harder and reach out to many new sponsors. Getting our first sponsor breathes new life into the organizing team. We expect answers from many of the large sponsors we've reached out to this week. I design our invoice and send it to Webtype.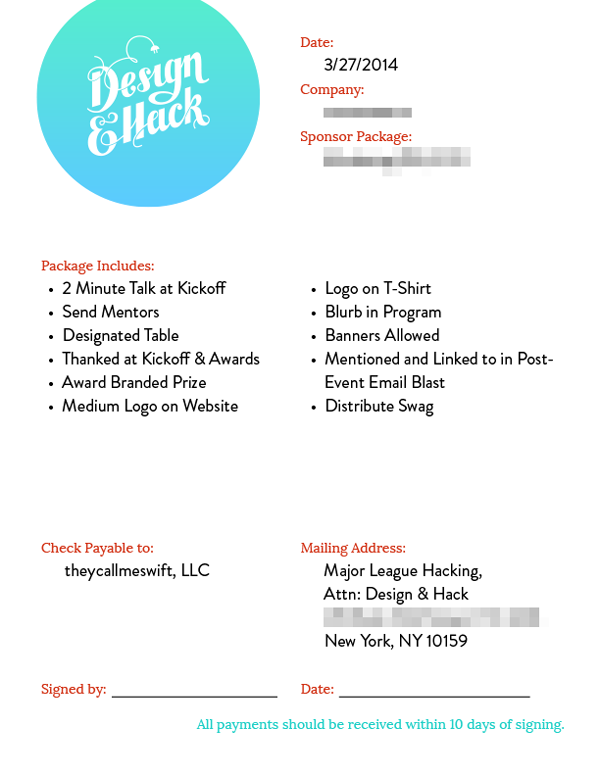 The next few days are comprised of us trying to get word out to as many relevant sponsors as possible. We are making some headway and getting a few sponsors, but we missed the boat on a lot of companies who had already closed their budgets. Soon enough Facebook and Squarespace sign on. We start talking about the next event and how if we start planning right after this one, we'll be able to close a lot of sponsors who are interested but don't have the budget.
At this point we have the budget to pull off the event, but more modestly than we had intended. We also experience some difficulties with the largest rooms on one of the floors we'd reserved at Parsons. The organizers begin expressing doubts. I am still in Israel at this point and due to the time difference am not present for this long conversation.
A few hours later I wake up, read over the chat and post my thoughts.
The others take a while to mull it over and then respond.
4/1/2014
The next day, we postpone the event.
On 4/1 the chat ends. We have postponed the event. I spend the next few days reaching out to our current sponsors and explaining the situation to them.
At the end of the day, trying to put together a 400-person student hackathon focused on design — the first of its kind — in less than three months was an incredibly audacious attempt. None of us had any experience organizing something at this scale. We reached out to sponsors too late in the game, we started searching for a space too late, we didn't know many of the things we know today.
I now believe postponing was the right call. Though we had managed to raise the budget to put together the hackathon (even with 400 people) the hackathon would have been below our standards and undeserving on the excitement towards it from students wishing to attend to mentors and sponsors wanting to be a part of it.
Now, not only do we have much more time to put together the event, but our starting point infinitely better than our previous one. We are connected with many sponsors who are committed to sponsors and a great deal that wanted to but had already closed their budget. We know much more about what we need to accomplish. We have lists of potential spaces and food vendors and print shops that we have relations with. We are well on our way to a truly incredible and unique hackathon.
Design & Hack is going to be amazing.
We Evolve Again
Design & Hack left me overwhelmed with the amount of enthusiasm from every direction. Not only were designers thrilled about the event, developers were just as excited. When we postponed the event, many developers got in touch asking us to give them updates the moment we have them.
The hackathon was meant to be an event organized the the Creative Code Club, but its mission ended up being larger that the organization's. Creative Code Club was teaching designers how to code in order to affect design culture, make designers more autonomous, and, mainly, to facilitate better products being created. This last goal had us thinking, was teaching designers how to code enough? Weren't we only serving half of our audience? Dealing with half of the issue? Sure, more good products would be created once designers had the autonomy to turn their ideas into reality, but most new applications are created by developers who have the skills to create the technology, but not to design it properly. If we wanted to truly affect the caliber of created technology, we would to widen our reach.
The zeitgeist of designers learning to code goes both ways. Following Apple's successes, tech culture too is beginning to understand the merits of good design, and with it most student developers. Considering the excitement around Design & Hack, I felt that we could do more, and a vision for a new organizational structure formed.
The Parameters for this new name were almost the same as the previous one, with the exception of working both ways — in the context of teaching code within design schools and of teaching design within Computer Science programs.
At first, we searched for a name for our top-level organization. The idea was to start Design Clubs within schools with CS programs, for instance MIT Design Club, or Stanford Design Club. This way we could keep our current structure of Parsons Code Club and SVA Code Club. With unified branding, it would be obvious that these belonged to the same organization regardless of that organization's name.
However, there were names that could do both — represent that top level organization as well as each individual club.
4/4/2014
We decide on our new name: Design & Code.
Design & Code is not a hard name to come up with. It had been on our potential name list since the beginning, but it had never been right up until that point. Parsons Design & Code didn't roll off the tongue and wasn't clearly a student organization. This time, though, the name suited our purposes perfectly.
Instead of phrasing it as Parsons Design & Code, we would phrase it as Design & Code at Parsons. To designers, it is clear that this is something for them, and something related to code. To developers, Design & Code at Rutgers will communicate that it is something for them, and something related to design. The top-level organization will be called Design & Code without an "at" and will clearly be related to each of the local chapters.
As with previous iterations, rebranding was not a simple task, but a long process. We had decided to rebrand C3 to a more thought out brand when it was still Creative Code Club, a process which started a few weeks before we decided to rename and change the scope of the organization. On 3/14, I add Rob and Pedro Almeida, a member of the club from SVA, to a Facebook chat and start brainstorming potential directions. It starts with the following concept for a computer-generated Creative Code Club logo that would always have 3 different kinds of cogs turning.

The chat becomes a sort of mood board for all of us (though we also start a Pinterest for the process). Once we change our name to Design & Code, I begin uploading ideas for directions by the handful, mostly without merit.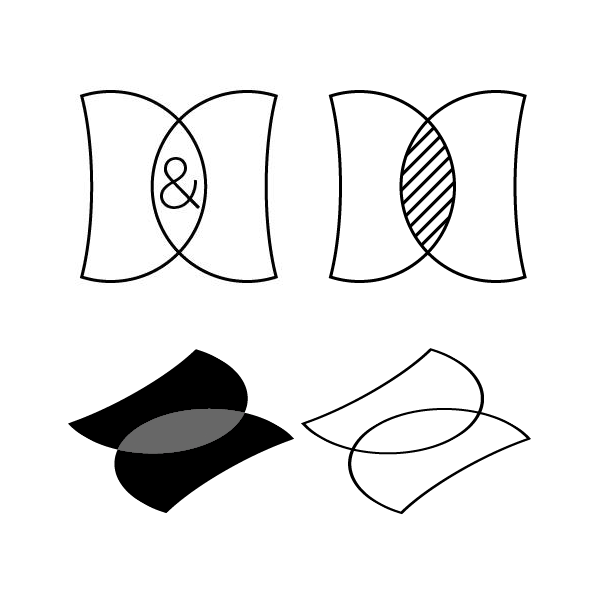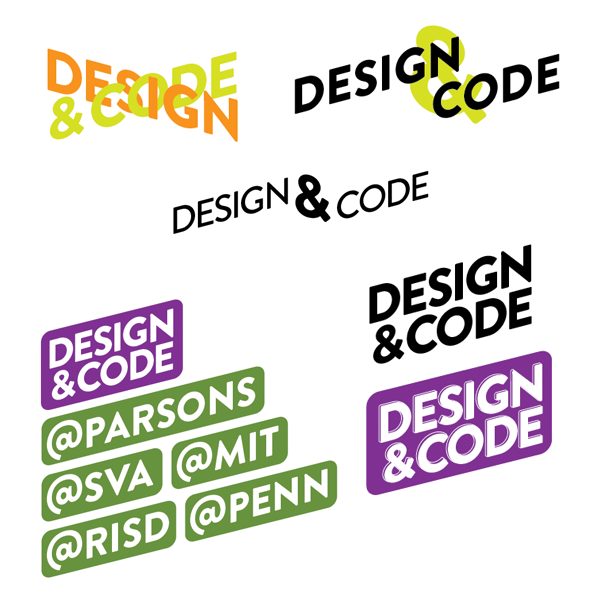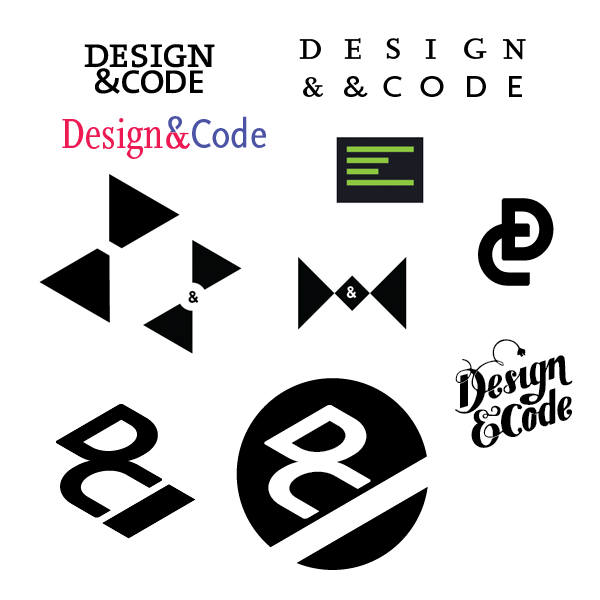 I try to play off of the ampersand. For me, it represents the union of Design and Code.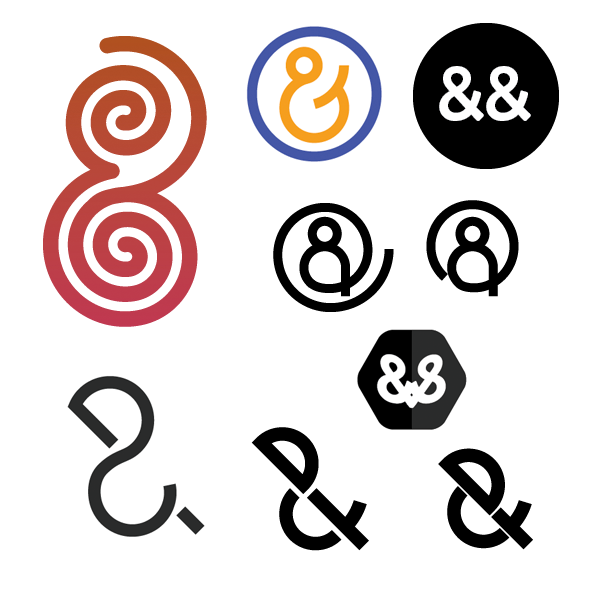 I finally get some headway when I begin to experiment with spirals.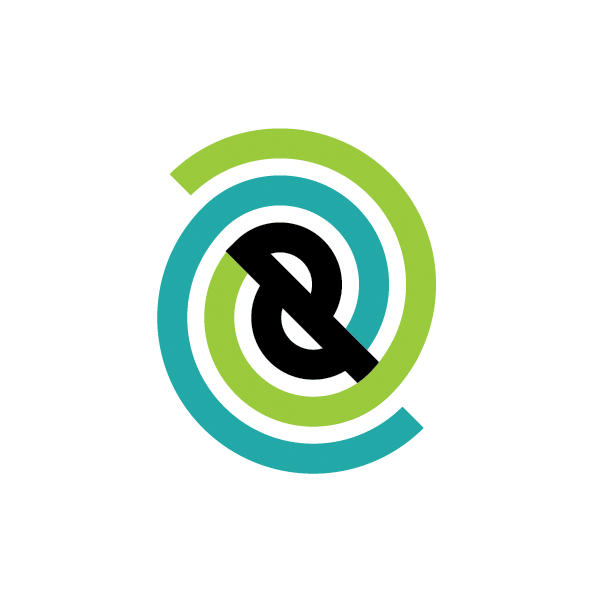 The resulting shape is a quirky ampersand that grows on me quickly. I iterate on it and build a D and a C around it.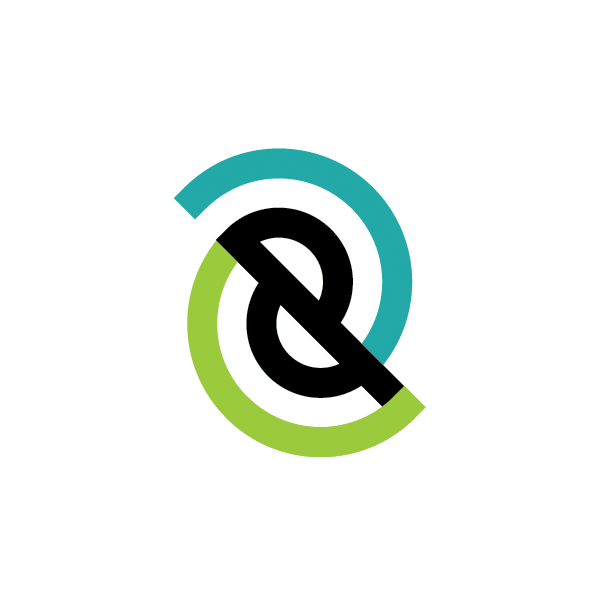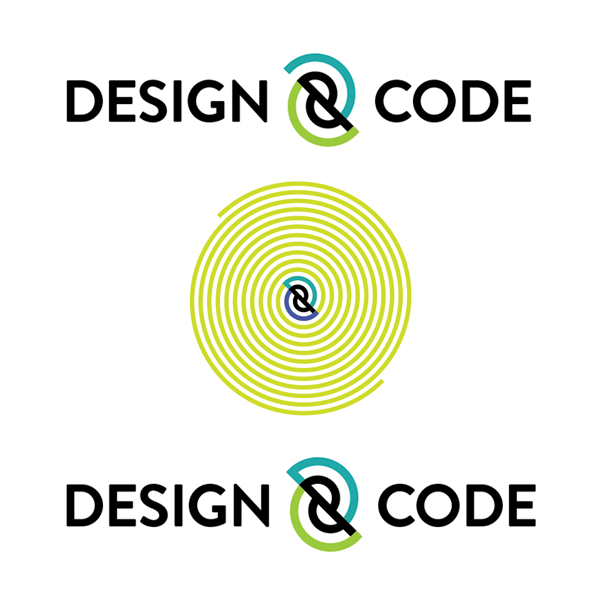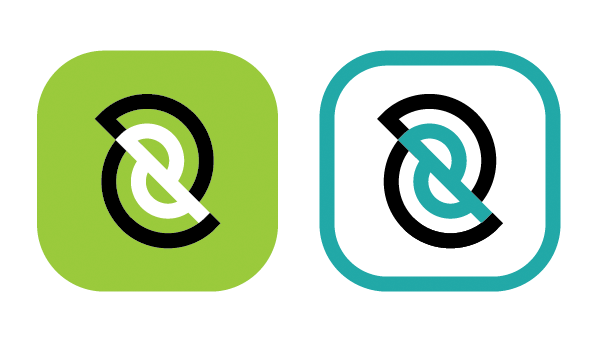 With every iteration I like the logo more, but when I test it on people the ampersand is not immediately noticeable and some parse the type as "design code" rather than "design and code." The D and the C are not noticeable at all. I try to make the ampersand clearer but lose the pure forms I had grown to love.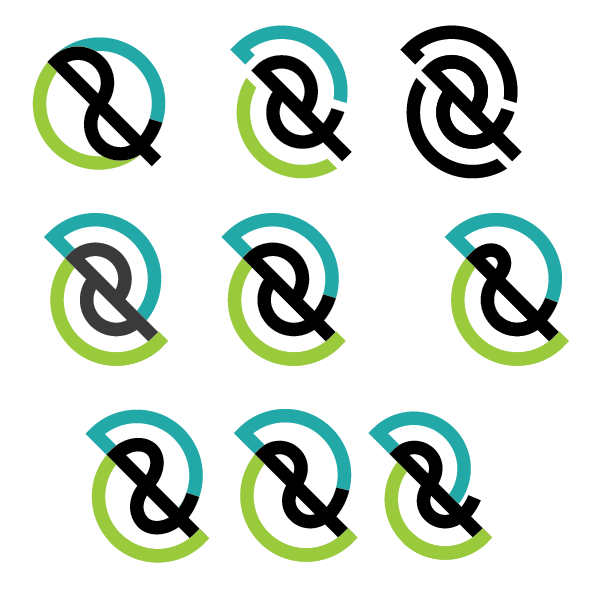 I decide to scrap this direction and focus on new paths.
5/7/2014
Rob and I meet to jam on branding.
Several new directions are attempted. We are trying to show the union of two things — design and code. We try mixing, crashing, implosions, weaving, and keep coming back to the idea of a venn diagram.

This idea of a venn diagram with a circle and a diamond is not new. In the past, we shied away from it because it was always the first thing we tried. A circle representing design and creativity, and a diamond representing code and technology. We always felt that it was too easy, too cliche. This time, though, we let ourselves treat it as a legitimate option and quickly grew to love it — not as a logo in itself but as a skeleton for an extended brand based on circles and squares overlapping. We are still working on this extended brand, but for now, this is our logo.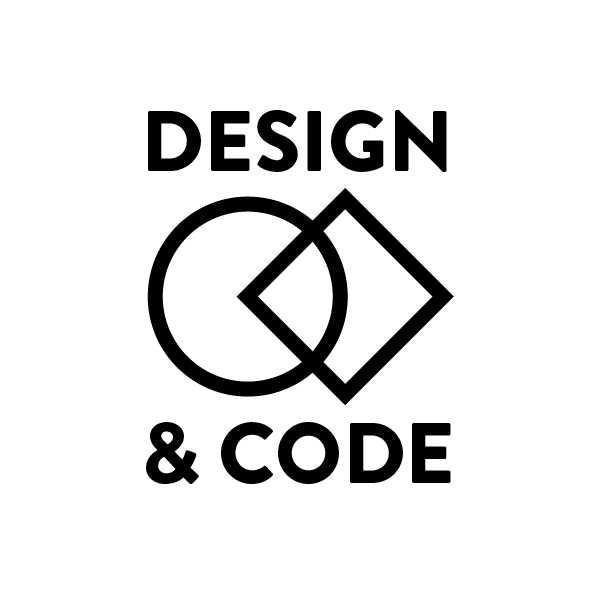 We are Design & Code.
A few days later, Dan informs us that he will not have time to remain on the board.
Lessons Learned
In retrospect, reading over this, things that felt like eternity actually spanned less than 2 weeks. It is interesting how time morphs in high stress situations. I've learned a lot from this process. Following are a few lessons that'll stay with me.
It is hard to work with people who have different styles of getting things done. I'm an intense person, I try to get as much done as quickly as possible, even when it's a long shot. I find it difficult to work with people who are calmer or less ambitious and they find it difficult to work with me.
You can't expect other volunteers to share your vision or priorities.
You can't expect people who don't share your vision to work as hard as you.
There are many constraints that you can't just hustle your way through.
You need to account for other people's schedules. This includes members of your team but also potential sponsors, some of which need to be notified months in advance beforehand. It includes anyone you correspond with who can take weeks to get back to you or needs a month to process a transaction, regardless of how hard you work.
You can't trust what people say. Even if a sponsor says they're interested, it doesn't mean anything until it's on paper.
People will let you down. Not the cheeriest of facts but that doesn't make it less true. This doesn't mean that you shouldn't trust people. It just means to be prepared for the worst from every direction, not just the ones you're expecting.
Now
We now have our top level organization, a branch at Parsons, a branch at SVA and Design & Hack scheduled for early next semester. There's a lot of work ahead of us to make sure this all happens.
We need to:
Recruit a new board member for Design & Code in order to be eligible to reapply for non-profit status.
Become a 501(c)3 organization that can accept tax-exempt funding.
Grow. My vision is to have a Design & Code chapter in every context that it makes sense. In the next year I'd like to launch in several new schools, including at least one CS program. I want to build a network of students and alumni interested in design, tech, and collaboration.
Launch Design & Hack and turn it into an annual event that brings all of the local clubs together.
Facilitate funding and guest speakers for the entire next semester for each of our local chapters.
Find and nurture leaders for the organization.
Right now, we look like this:
Design & Code Leadership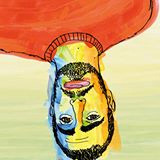 Joel Califa
President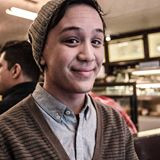 Robert Vinluan
Board Member
Parsons Branch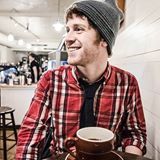 Daniel Udell
Leader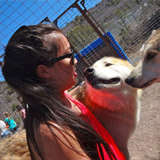 Jayne Lee
Leader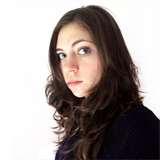 Laurie Waxman
Leader
SVA Branch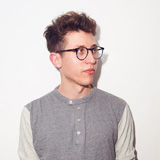 Sam Wander
Leader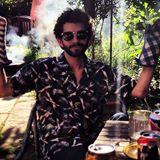 Luke Stern
Leader
Design & Hack Organizers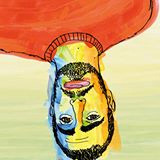 Joel Califa
Director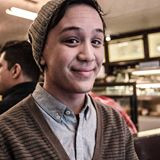 Robert Vinluan
Organizer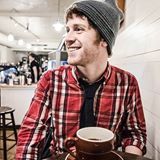 Daniel Udell
Organizer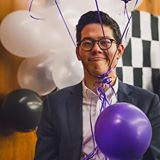 Emanuel Hahn
Organizer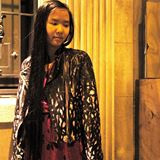 Cheryl Wu
Organizer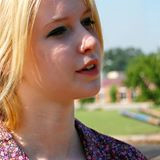 Sam Hutch
Organizer
Next year, the sky's the limit. We're ready.
For updates on Design & Code, follow us on Facebook or follow me on Twitter.
Joel Califa leads Product Design at DigitalOcean.
Beyond design, his passion in life is making awesome new friends.
If you enjoyed this, hit him up on Twitter or via email!